November 10th, 2013 categories: Downeast Lakes Region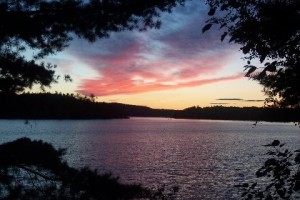 Darkness Beckons Over Green Lake in Dedham, Maine
Lakefront property owners recognize that one of the most pristine lakes in Maine is Green Lake in Dedham and Ellsworth. This glacial lake is part of the Union River drainage and touted as one of the best lakes in Downeast Maine.

Encompassing 3,132 acres, Green Lake has a maximum depth of 170 feet and a mean depth of 44 feet. There are no known invasive aquatics and the
water quality is above average
.
The
Green Lake Association's
mission is  "To advance and protect Green Lake as a valuable and natural resource. The association undertakes educational and informational activities that promote best practices for lake property owners and recreational users of the lake."
Anglers delight in the coldwater/warmwater fishery. As one of the eight original homes of landlocked salmon, the lake is full of game fish. It's also home to the southern-most population of arctic charr. In addition, you can catch trophy lake trout (togue) and trophy smallmouth bass here. A public launch is located on Nicolin Road, off Route 1A in Ellsworth.
On the southern end of the lake is the Green Lake National Fish Hatchery. The hatchery raises smolts and parr for the USFWS Atlantic salmon restoration/recreation program for Gulf of Maine rivers.
Along the 27.8-mile perimeter, there are numerous inlets and islands to explore, but do be aware of rocks. Head off in your canoe, kayak or pontoon boat and spend a day watching the bald eagles soar above while turtles bask on the rocks.
Dedham is a small town located along scenic Route 1A and is known as the Switzerland of America for its numerous waterbodies and mountains. Lakefront property owners have long appreciated this area of lakes and mountains that reminded early travelers of Lucerne, Switzerland. Who wouldn't love this area? Set in the shadow of Bald Mountain and other mountains and hills clustered in the area, you'll take one look and understand why this reminded them of the old country. Ellsworth is a small city known as the Gateway to Acadia National Park.
Spending time on Green Lake has become a welcome retreat for lakefront property owners. This is an idyllic place where you can nap in a hammock under the trees, challenge the kids to making  the biggest splash as you jump off the dock, roast marshmallows by the water's edge, gaze at a million stars and learn the constellations, and fall asleep to the call of the loons.
The lake is located about a half hour from Bar Harbor and Acadia National Park. From Portland, it's a two and a half hour drive to Green Lake, while it's four hours from Boston. As you head north, you can let all your busyness float out the car window, knowing that soon you'll be relaxing on an Adirondack chair beside one of Maine's very special gems–Green Lake.
To view lakefront properties for sale on Green Lake, click on the green box above.
To learn more about the Downeast Lakes Region of Maine, check out the blog links below.
Phillips Lake, Dedham Township, Maine: Own Lakefront Property in "The Switzerland of Maine"
The Downeast Region – Waterfront Property By Sea and By Lake