March 29th, 2012 categories: Mid Coast Lakes Region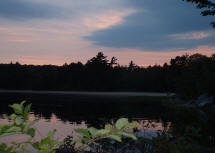 Sunset Reflection on Alford Lake, Hope, Maine
There's something magical about Alford Lake in Hope, that's hard to define, but for Maine lakefront property owners, it begins with the spectacular sunsets and moon rises, the cries of the loons and the twinkling stars reflecting across the water.

Encompassing 585 acres, Alford Lake has a maximum depth of 78 feet with a mean depth of 31 feet. The
water quality of this Mid Coast lake is above average
.
A state-maintained public boat launch is located on the west shore of Alford Lake at the Beaver Lodge Campground. Beaver Lodge is also home to the Knox County Fish and Game Association. The principal fisheries in the lake include brown trout, brook trout, rainbow smelt, smallmouth bass and white perch.
Take a swim in this pristine lake. Explore the shoreline. Climb a mountain. Visit a lighthouse. Sail on a schooner. Go antiquing. Nap on your hammock. Drink tea on your waterside deck. Sip wine on your dock. You can do it all, when you own waterfront real estate on Alford Lake.
You'll be only minutes from the village of Hope. Here you'll find the Hope General Store, which has operated in the same location since 1832 and today sells solar panels, imported goods, a huge selection of beer and has a deli and wifi. In addition, the general store serves as the post office.
Hope is also home to some local specialty shops including Hope Spinnery, a wind-powered fiber processing mill, and Hope Orchards, where you can pick your own apples and pears in season.
And it's not far to Camden, Rockland, Rockport or Belfast and all that the Penobscot Bay Region has to offer along the beautiful Maine coast.
Hope is located just three and a half hours north of Boston and under two hours from Portland. Getting away from it all to your vacation retreat in a cabin or cottage on Alford Lake will allow you the opportunity to become one with nature. Things are simple here, the way life should be.
Click on the green box above to learn more about Maine lakefront property listings for sale on Alford Lake in Hope.
To learn more about other lakes where you can get close to nature, click on the blog links below.
Porter Lake, New Vineyard, Maine: Get Outside and Play
Aziscohos Lake, Rangeley Lakes Region of Maine: Heed the Call of the Wild
Hobbs Pond, Hope, Maine: Live Your Summer Dream at Lakefront Property said at January 20th, 2013 at 7:25 am

[...] Lakes Region of Maine Apr. 5-11 Out and About for the Mid Coast Regions of Maine Apr. 5-11 Alford Lake, Hope, Maine: The Way Life Should Be for Lakefront Property Owners Out and About for the Sebago Lakes Region of Maine Mar. 29-Apr. 4 Out and About for the [...]

Lermond Pond, Hope, Maine: Cherish Your Lakefront Vacation said at February 10th, 2013 at 9:14 am

[...] Lakes Region of Maine Apr. 5-11 Out and About for the Mid Coast Regions of Maine Apr. 5-11 Alford Lake, Hope, Maine: The Way Life Should Be for Lakefront Property Owners Out and About for the Sebago Lakes Region of Maine Mar. 29-Apr. 4 Out and About for the [...]
Leave a Reply