December 8th, 2011 categories: Sanford Lakes Region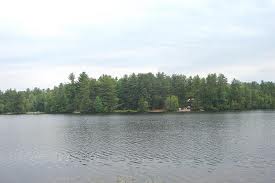 A Quiet Day on Lake Sherburne in Waterboro, Maine
Imagine yourself sipping morning coffee on the dock or deck of your lakefront property on Lake Sherburne in Waterboro, Maine. Covering 60 acres, this man-made lake has a mean depth of 12 feet.
Own waterfront real estate on Lake Sherburne and you'll soon realize that it's an extremely quiet place–perfect for a four-season lakefront getaway destination. You'll want to swim, boat, bike, hike, snowmobile, ice skate, cross-country ski and fish.

Miles of hiking and biking trails are just steps away. Ossipee Mountain is the highest point in town and has a fire tower that is listed on the National Historic Lookout Register.
And the
Waterboro Barrens
, a 2,140-acre Nature Conservancy Preserve, offers miles of trails to explore. It's considered the state's best and largest example of a preserved pitch pine barrens.The habitat created by the forest and wetlands, including Round Pond and Little Teeny Poverty Pond, supports rare and endangered insects, plants, birds and other wildlife species such as Blanding Turtles and Wood Turtles. Six rare species of moths and butterflies are part of a total of 364 species found here. And the globally rare dragonfly, the ringed boghaunter, is known to emerge here in early May. An old dam site at Buff Brook hosts a native brook trout fishery.
Today a network of roads built to fight the wildfires of 1947 serve as pathways through the forest. As you walk along the trails that loop through the scraggly trees, you may notice recent burns. TNC uses prescribed burns to improve the health of this type of forest.
Own  waterfront property on Lake Sherburne and enjoy daily jaunts into this boreal pine barrens.
Lake Sherburne is located 45 minutes from Kennebunkport, 45 minutes from Portland, 35 from Old Orchard Beach, and 45 from both North Conway and Wolfeboro, New Hampshire. It's like being in the center of the universe! And if you are from Boston, it's only 2 hours to your weekend escape.
Can't you just smell the coffee brewing and feel the breeze flowing gently through your hair as you watch the sunrise over the water? Check out all the current lakefront properties for sale on Lake Sherburne by clicking on the green box above.
To view other blogs about hiking trails near lakefront real estate, just click on the links below:
Quantabacook Lake in Searsmont & Morrill, Maine: A Lakefront Vacation Retreat
Burnt Meadow Pond and Pequawket Pond, Brownfield, Maine: Spectacular Sunsets and Starlit Nights