May 5th, 2013 categories: Belgrade Lakes Region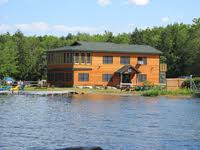 The Quintessential Boat House at Great Pond Marina, Belgrade Lakes, Maine
Great Pond Marina in Belgrade Lakes, Maine is set on one of the largest bodies of water that is known as a pond. Measuring roughly seven miles north to south by 4 miles east to west, Great Pond has a surface area of 8239 acres, with a maximum depth of 69 feet and a mean depth of 21 feet. Its shore length is over 46 miles.
The marina, located at 25 Marina Drive in Belgrade Lakes, was recently renovated and is styled after a traditional Maine boat house featuring exposed beams and an unparalleled view. With this new building came a quintessential experience–the Great Pond Boat House is a membership and guest-only lakeside restaurant and club. It lives up to its motto: Where the Lake Gathers.
The Gardiner family purchased the marina in 1991 and recently parents Bob and Debbie passed it on to their sons, Adam and Jason. Under their guidance, the marina continues to maintain a strong work ethic and offers a high level of service to each customer.
Great Pond Marina is a full-service marina that offers boat slips, boat rentals, storage, gas dock, service and parts. Seventy-six slips are open from mid-May to mid-October. With Mercury Marine Factory Certified Mechanics on staff, employees are trained to make sure your boat will run better and longer.
If you want to moor in front of your camp or cabin, Great Pond Marina is equipped to install a mooring.
Don't own your own boat? Rentals, including the recently added paddleboards, are available by the half-day, day or week. Daily rentals can be reserved no earlier than 24 hours in advance. Rentals come equipped with free maps, safety equipment and instructions.
Need winter boat storage? Great Pond Marina will pick it up at your dock on the pond if you wish or you can bring it in yourself. They offer indoor and outdoor boat storage, winterization, mechanical inspection, spring delivery, one free lake assist and other benefits.
Great Pond has been a destination for boaters, fishermen, and outdoor enthusiasts for many, many years. Its blessed with above average water quality and its cleanliness and clarity have been monitored and protected by a very active lake association, The Belgrade Lake Association.
Salmon fishing used to be a big draw here, but the attraction now is northern pike. This is an aggressive species that has thrived in the waters of Great Pond. Some grow as large as 30 pounds and it's these giants the sports fishermen are after. Love them or hate them, their appeal to many fishermen is undeniable.
Camps, cabins and cottages dot the waterfront, as well as some more ostentatious dwellings. Some have been in families for generations, while others are newly constructed by recent inductees to the beauty and attractions of Great Pond and the Belgrade Lakes Region in general.
Make your vacation a memorable one by spending as much time as possible on Great Pond. And remember–the folks at Great Pond Marina are always ready to assist you.
To learn more about lakefront properties for sale on Great Pond, click on the green box above.
To learn more about other lakes in the Belgrade Lakes Region, check out the blog links below.
Pattee Pond, Winslow, Maine: Lakefront Property Owners Find Fast Fishing Fun
The Maine Chance on Long Pond in the Belgrade Lakes Region: Beauty the Way Nature Intended
The Belgrade Lakes Region of Maine