January 20th, 2013 categories: Mid Coast Lakes Region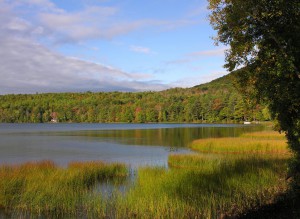 photo credit: Bob Benjamin
Morning Sun on Tranquil Hobbs Pond in the Mid Coast Region of Maine

Own lakefront property on Hobbs Pond in Hope, Maine, and live your summer dream all year round. Even in the middle of winter, you can play on the frozen ice all day and then get cozy inside your waterfront cottage with a fire roaring in the wood stove or fire place.  No matter what the season, the view will always be stunning, including Hatchet Mountain.
Spring-fed Hobbs Pond encompasses 266 acres and has a maximum depth of 20 feet with a minimum depth of 13 feet. The water quality is above average and there are no known invasive aquatic infestations.
What kind of fish will I catch? Expect to feel brown trout, smallmouth bass and white perch tugging on your line in this outstanding fishery. Is there a boat ramp? Yes, trailered boats may be launched at the northern end of the pond.
Long and narrow, Hobbs Pond has a five mile perimeter and leads into neighboring Fish Pond, which covers 144 acres. A public boat ramp is located near the dam at Fish Pond.
The two ponds offer plenty of inlets and coves for exploration. Look for turtles sunning on logs, heron standing still as they fish, ducks bobbing their heads into the water to eat the vegetation.
Hobbs Pond has long been home to serenading loons. You might even see a baby loon–always a treat. And another treat is to site the bald eagle that frequents the pond.
Hatchet Mountain offers a beautiful backdrop and stands 1,100 feet above sea level. The Coastal Mountains Land Trust owns a 27-acre piece on the southeast side and maintains hiking trails. From the summit, you can enjoy spectacular views of the Camden Hills.
The pond is rather private, and set in the small village of Hope. While at your lakefront getaway on Hobbs Pond, you'll probably become a regular at the Hope General Store, established in 1832. And you might even do the same at the Hatchet Mountain Publick House–a great eatery and pub with an antique shop located in a beautifully renovated barn.
When you want to enjoy a bit more hustle and bustle, you need only drive a few minutes  to reach the coastal towns of Camden, Rockland, Rockport and Belfast, where shops, galleries and restaurants are plentiful.
Fish. Swim. Boat. Hike. Ice Skate. Ski. Snowshoe. Snowmobile. Hobbs Pond is an outdoorsman's or woman's year-round paradise. And it's located only 3 1/2 hours from Boston and just under two hours from Portland.
To view lakefront property listings for sale on Hobbs Pond, click on the green box above.
To learn more about other lakes in the area, check out the blog post links below.
Alford Lake, Hope, Maine: The Way Life Should Be for Lakefront Property Owners
The Ponds of Union, Maine: Seven Tree, Crawford and Round Pond