April 1st, 2012 categories: Mid Coast Lakes Region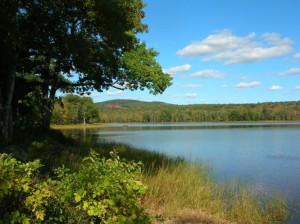 Summer Reflection on Seven Tree Pond in Union, Maine
The three ponds of Union, Maine, Seven Tree Pond, Crawford Pond and Round Pond, are small and mostly undeveloped. Lakefront property owners will be pleased that boat traffic is therefore at a minimum.
Old farms and blueberry fields roll to the water's edge of these unspoiled ponds on the Pemaquid Peninsula of the Mid Coast Region of Maine.
Seven Tree Pond stretches across 528 acres from Union to Warren. It's a natural part of the St. George River, which flows toward saltwater in Thomaston Harbor. The maximum depth of Seven Tree Pond is 45 feet, with a mean depth of 24 feet. The water quality is below average.
Brown trout, smallmouth bass, largemouth bass, white perch and chain pickerel make for good fishing. A state-owned boat launch is located off Route 235.

Crawford Pond also stretches from Union to Warren, covering 596 acres. The maximum depth of this pond is 57 feet with a mean depth of 20 feet. The
water quality of Crawford Pond is above average.
Along the 10.9 mile perimeter are many nooks and crannies to explore, along with several islands scattered about. At the northern end,
100-Acre Island is comprised almost entirely of an undisturbed hemlock forest
. In 1999, three families donated their undivided interests to the
Georges River Land Trust
to ensure the island would remain undeveloped and accessible to the community. Picnic sites are designated along the shoreline for day use and a modest trail system exists along the southern shore. It is otherwise a wilderness island, allowing the hemlock forest to grow and mature in its natural state.