February 16th, 2012 categories: Mid Coast Lakes Region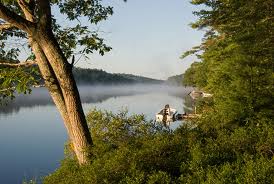 Early morning on Biscay Pond in Damariscotta, Maine
Biscay Pond in Damariscotta and Bristol, Maine, is referred to as "Golden Pond" by those who know. They're the folks who own lakefront real estate here and enjoy spending their mornings sipping coffee on the deck overlooking the water while watching for loons.
Biscay is a long and narrow pond that covers 382 acres and has a maximum depth of 61 feet, with a mean depth of 39 feet. The water quality is average. Boaters can access it from the boat launch at the north end on Biscay Road. And from
Biscay (correct pronunciation–biss-KEY),
canoers and kayakers can paddle to several lakes and rivers. On Biscay Road you'll also find the Biscay Pond Public Beach, a small beach with limited parking.
Anglers enjoy the principal fisheries of brown trout, splake, smallmouth bass and largemouth bass.The Pemaquid Watershed Association had its beginnings with the Biscay Pond Association, which formed in 1966. The association eventually grew into a land trust that represents all of the Pemaquid River watershed.
Swim. Fish. Boat. Snowmobile. Ice Skate. Biscay Pond is a popular ice skating spot.
Nearby is the historic village of Damariscotta, once a famous shipbuilding town. It's a must see after you've enjoyed time on the pond–great shops, galleries and eateries. Damariscotta is also the gateway to the Pemaquid Region, at the heart of Maine's Mid Coast.
After you've purchased your waterfront property, be sure to spend all or part of Columbus Day weekend here each year–you won't want to miss the Damariscotta Pumpkinfest and Regatta. Biscay Pond is only three hours from Boston and one hour from Portland.
And in neighboring Bristol, the second week of August brings the annual Old Bristol Days, featuring a week-long series of events.
Looking for lakefront property on one of the most picturesque ponds in Maine? Look no further–let Biscay Pond be your choice for a waterfront getaway. Just click on the the green button above to learn more about our lakefront listings.
To learn more about other smallmouth and largemouth bass fisheries in the Mid Coast Region, check out the blog links below.
Medomak Pond, Waldoboro, Maine: Simply A Perfect Lakefront Getaway
Duckpuddle Pond, Nobleboro & Waldoboro, Maine: Remote Lakefront Property in Mid-Coast Maine