July 4th, 2010 categories: Sanford Lakes Region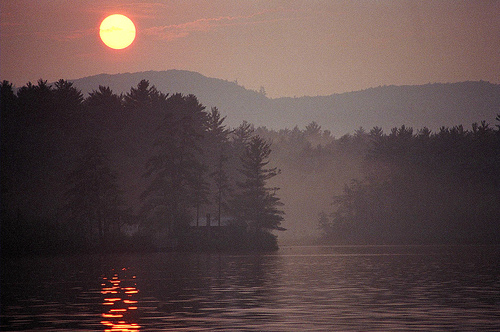 Sunset over Bauneg Beg Lake in the Sanford Lakes Region
(photo credit: Denise Foley)
Located about midway between Sanford and North Berwick is the 188-acre Bauneg Beg Lake. This is the southern most sizable lake in Maine.

With a
maximum depth of 29 feet
and a
mean depth of 9 feet
, Bauneg Beg Lake offers
good fishing
for small and largemouth bass, white perch and chain pickerel.Documents show the spelling
nearby Bauneg Beg Hill
to originally have been spelled Bonny Bigg Hill. Bauneg is Scottish for bonny or beautiful and early settlers in the North Berwick area were Scotsmen. The hill encompasses three peaks with a maximum height of
866 feet
. It's taller than nearby Mt. Agamenticus and is the only mountain in southern Maine that does not have a radio tower on it.
Bauneg Beg Lake was created in 1895 when the main stem of the Great Works River was dammed. Due to soil erosion and phosphorus run-off, the water quality is below average. The Bauneg Beg Lake Association (BLLA) has been working with the York County Soil and Water Conservation District to identify Best Management Practices and to apply for a 319 grant from the Maine DEP. Several years ago they completed a demonstration project "to demonstrate a variety of conservation practices that reduce erosion and polluted runoff, form a local cadre of individuals skilled in the construction of conservation practices, and raise awareness about watershed problems and solutions."
The BBLA, led by president Ray Smith, holds meetings the last Sundays of May, July and August at the Sanford Fish and Game Club on Route 4. For the last 21 years, the association has held a yard sale in late June to help raise funds for the water quality projects and lake monitoring activities. Other social events include a July 4th boat parade and Labor Day weekend dance on that Saturday evening at the Sanford Country Club.

Several peninsulas and coves seem intended for summer afternoons spent exploring by canoe or kayak. The middle of the lake is perfect for waterskiing in the summer and snowmobiling in the winter months. One of the few seaplane airports in the region is located on Bauneg Beg Lake.
Beautiful sunrises and spectacular sunsets make this a favorite for lakefront property owners. On her Web site, children's book author Rose Kent, who grew up in Kings Park, Long Island, New York, writes, "And during the summers, my wise parents, Harry and Theresa, showed my brothers and sister and I another type of living by having us spend our time at a cabin in Maine. We picked blueberries, swam in Bauneg Beg Lake, and ate clams and whoopie pies." It doesn't get much more Maine than that!
Situated in the towns of North Berwick and Sanford as it is, Bauneg Beg offers lakefront and small town living with many conveniences. And within twenty minutes you can be splashing in the Atlantic Ocean or doing some tax-free shopping in Portsmouth, New Hampshire. But it's back to the peace at your waterfront property of this Bauneg Beg Lake that you'll want to return each night.