February 5th, 2010 categories: Sebago Lakes Region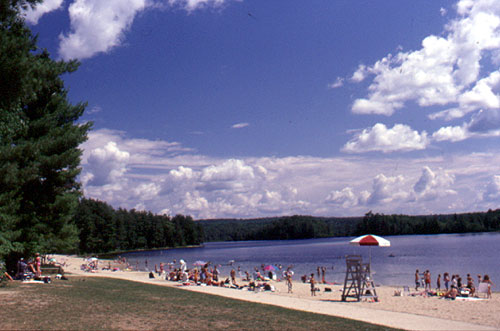 Vacationers enjoy Range Pond State Park in Poland, Maine
Range Ponds in Poland provide a top fishing spot for lakefront property owners of the Western Maine Lakes and Mountains Region. Just a short drive from Lewiston and Auburn and only 40 minutes from Portland, you'll find three distinct ponds, each with its own personality.

Lakefront Properties For Sale on Upper and Middle Range Pond
The
Maine Department of Inland Fisheries and Wildlife
describes the Range Ponds as
high quality for bass fishing
. The ponds are also stocked with brown and rainbow trout.
Anglers frequent the Range Ponds in summer and winter. Fishing in the shallow coves has proven to be most productive. Bait, licenses and tackle can be purchased nearby.
The Range Ponds are really a chain of three ponds known as Lower, Middle and Upper Range Ponds. All three have been rated by the Maine Department of Environmental Protection and the Maine Volunteer Lake Monitoring Program to have above average water quality.
The Range Pond Environmental Association is dedicated to protecting the water quality of the three ponds by consistent water quality monitoring and by providing education and technical assistance to residents and municipal officials. According to the latest water quality report by Scott Williams, Aquatic Biologist for Lake and Watershed Resource Management Association, "Overall, 2011 was a good year for the Range Ponds, in that all three of the ponds were as clear as, or significantly clearer than they have been historically."
Lower Range Pond encompasses 270 acres and has a maximum depth of 41 feet, with a mean depth of 15 feet. A trailered boat launch is located here at Range Pond State Park. As the smallest of the three ponds, Lower Range has a limit of 10 horsepower motors. During the summer, small boats, canoes and kayaks dot the horizon. Paddling is wonderful here with crystal-clear water and a sandy shoreline, which offers great swimming spots and places to watch wildlife. A pair of bald eagles has been nesting off the point near Poland Spring Campground for several years. They hatch one or two eaglets each year.
Range Pond State Park, on Lower Range, has a wide sandy beach for sunbathing and swimming, a picnic area and group shelter, playground and 2 miles of easy hiking trails. It's located just off Empire Road in Poland and is handicapped accessible.
Middle Range Pond covers 382 acres, has a maximum depth of 66 feet and a mean depth of 29 feet. Cyndi's Dockside Restaurant, on the shores of Middle Range, is open year round. In the winter you'll find parking for ice fishermen and snowmobiles here. The local snowmobile trail passes across the property.
Upper Range Pond has a surface area of 357 acres, a maximum depth of 38 feet and a mean depth of 20 feet. Low wind on this pond makes it great for water sports including water skiing.
Upper Range is directly connected to Middle Range via a short thoroughfare. Trailered boat access is available off Range Hill Road at the causeway between both waters.
Nearby you'll find three golf courses, great biking on back roads and beautiful trails to hike at Poland Spring Preservation Park. If you are in the market for lakefront property on crystal-clear water with the scent of pine and hemlock in the air, look no further than the Range Ponds.
Here are a couple of news articles from our archives you might interesting:
Range Pond Attracts Hundreds for Ice Fishing Derby