February 5th, 2010 categories: Sebago Lakes Region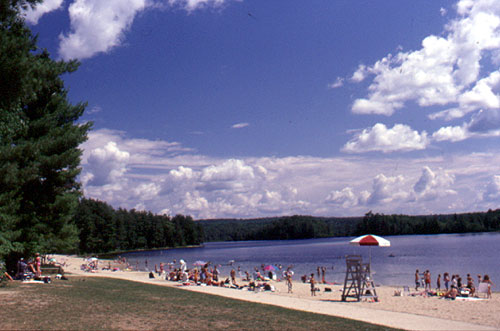 Vacationers enjoy Range Pond State Park in Poland, Maine
Range Ponds in Poland provide a top fishing spot for lakefront property owners of the Western Maine Lakes and Mountains Region. Just a short drive from Lewiston and Auburn and only 40 minutes from Portland, you'll find three distinct ponds, each with its own personality.

Lakefront Properties For Sale on Upper and Middle Range Pond
The
Maine Department of Inland Fisheries and Wildlife
describes the Range Ponds as
high quality for bass fishing
. The ponds are also stocked with brown and rainbow trout.
Anglers frequent the Range Ponds in summer and winter. Fishing in the shallow coves has proven to be most productive. Bait, licenses and tackle can be purchased nearby.
The Range Ponds are really a chain of three ponds known as Lower, Middle and Upper Range Ponds. All three have been rated by the Maine Department of Environmental Protection and the Maine Volunteer Lake Monitoring Program to have above average water quality.
The Range Pond Environmental Association is dedicated to protecting the water quality of the three ponds by consistent water quality monitoring and by providing education and technical assistance to residents and municipal officials. According to the latest water quality report by Scott Williams, Aquatic Biologist for Lake and Watershed Resource Management Association, "Overall, 2011 was a good year for the Range Ponds, in that all three of the ponds were as clear as, or significantly clearer than they have been historically."
Lower Range Pond encompasses 270 acres and has a maximum depth of 41 feet, with a mean depth of 15