August 31st, 2009 categories: Sebago Lakes Region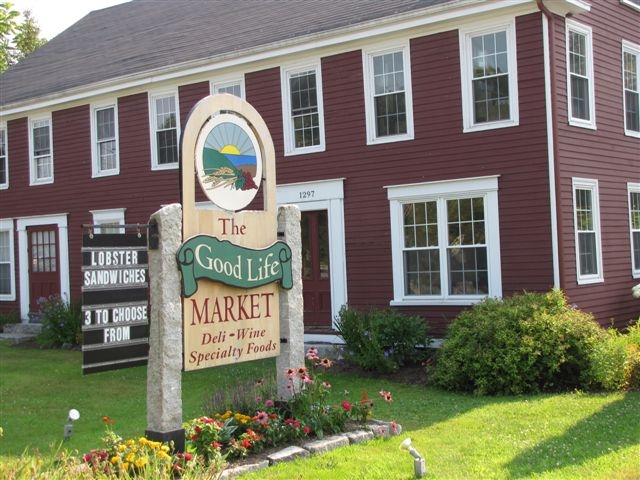 Sebago Lake is Maine's second largest lake, with water so pure that it provides drinking water to the Greater Portland area.

Before you head out on the lake, you should stop by the
Good Life Market in Raymond
, a one-stop shop, and grab a picnic lunch. It's located right on the beaten path at 1297 Roosevelt Trail, Rte. 302, across from the
Panther Run Picnic Area
and just up the road from the
Raymond Boat Launch
.In fact, Ethan, who manages The Good Life Market for
Walt and Linda Manchester
, says, "We get lots of business from people with camps and boaters on the lake."
Open daily from 7 a.m. till 7 p.m., The Good Life Market offers a variety of sandwiches. My favorite is "Summer in Italy" with fresh mozzarella, extra virgin olive oil, sliced tomatoes and basil pesto on split focaccia.
Other favorites include "Erin Go Bragh" with Boar's Head corned beef, horseradish sauce, cheddar cheese, sliced pickles and red onion on multi-grain bread, and "Blue Moon Chicken Salad Wrap" with white meat chicken salad, blue cheese, toasted walnuts, dried cranberries, and baby spinach on a choice of white, wheat or spinach tortilla.
But wait, this is The Good Life Market and they offer plenty more!
Try locally raised natural beef and bison, imported and specialty cheeses, fresh produce, and a very large wine selection, which Ethan says, "Rivals everything in the lakes region."
For staples, try the fresh Borealis and Big Sky breads and Maine Roasters Coffee.
And for your personal pampering, how about a selection of fine liquor and spirits, local and specialty beers, personal care products, free movies to borrow and fresh CIGARS!!
Now if that isn't THE GOOD LIFE, what is?
Mark your calendar for the next wine tasting. Wine tastings are free and occur every month. Check their Web site for dates.
FMI: 207.655.1196 or www.thegoodlifemarket.com
Check out the current lakefront properties on Sebago Lake by clicking on the green box above. Enjoy!
Hikes In and Around Sebago Lake, Maine said at April 28th, 2013 at 6:49 am

[...] Deertrees Theatre Festival Brings Award-winning Broadway Shows to the Sebago Lakes Region of Maine Nestled Between Panther Pond and Sebago Lake, It's The Good Life Market in Raymond, Maine Coffee Pond in Casco, Maine known for EXCELLENT Water Quality A Peaceful Getaway Awaits on [...]
Leave a Reply