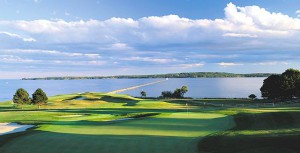 Spectacular Ocean Views from Samoset Golf Course
Lakefront property owners in the Mid Coast Region know that the Samoset Golf Course at Samoset Resort in Rockport, Maine, is lauded as "One of Maine's Best Courses." In 2011, it was voted "Best Golf Course" in the Portland Press Herald. And Hole 4 described as  "A gorgeous par 5 that wraps around the ocean rock-line and demands three precise shots to get to the green," was recognized as the third Best Golf Hole in Maine by the 2010 Downeast magazine's Reader's Choice Awards.
Designed in 1902 as a nine-hole course, it was rebuilt by Robert Elder as an 18-hole course in 1974. Further improvements were made in the early '90s and 2000. Today, the layout features an 18-hole championship course that stretches 6,600 yards for a par 70. Seven of the holes border the Atlantic Ocean and 14 of the 18 holes offer panoramic ocean views.
This is a stunning course that integrates the natural beauty of its ocean-side location with the drama of some challenging holes. It's designed to offer an enjoyable round for golfers of all abilities in a setting cooled by ocean breezes and framed by open space. The plush fairways plus tricky, undulating greens complete the championship golf experience.
The course also boasts a golf range, practice green and short game facility with bunkers, perfect for improving your game. Other amenities include a clubhouse with indoor/outdoor grille,  golf carts and pro shop.
Located in Mid Coast Maine, the Samoset is close to a variety of lakes and ponds, where you can relax after playing a round. Enjoy the spectacular views of Penobscot Bay as you play and then retreat to your classic Maine camp, cottage or cabin, where you can swap golf stories as you sit by the campfire.
For panoramic vistas, plush fairways and manicured greens, think Samoset Resort. And to learn more about lakefront properties for sale in the Mid Coast Region of Maine, click on the green box above.
To learn more about some of the lakes and ponds in the area, click on the blog links below.
Paradise Pond, Damariscotta, Maine: Serene Setting for On The Pond Lakefront Property Owners
Lermond Pond, Hope, Maine: Cherish Your Lakefront Vacation
Medomak Pond, Waldoboro, Maine: Simply A Perfect Lakefront Getaway
Coleman Pond, Lincolnville, Maine: Idyllic Fresh Water Vacation Setting Near Maine Coast