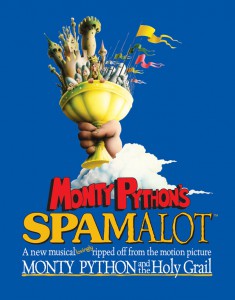 "SPAMalot" at Waterville Opera House
April 5-7, Friday-Sunday, times vary, Annual Bangor Garden Show, now known as the BDN Maine Garden Show & Spring Fling, features eight spectacular Gardenscapes and over 50 vendors selling all things gardening. Bangor Auditorium, 100 Dutton Street, Bangor. FMI: 207.947.5555, www.bdnmainegardenshow.com.
April 5, Friday, 7pm, Cosmic Colors, From northern lights to garden flowers, color fills our lives and "Cosmic Colors" explains how we use the rainbow to see, understand and explore our universe. An explanation of more active Northern Lights and a tour of the night sky prepare visitors for the Omnidome adventure, "Cosmic Colors." $3/person, Maynard F. Jordan Planetarium, 120 Munson Road, Orono. FMI: 207.581.1341, www.galaxymaine.com.
April 6, Saturday, doors open @ 1:30pm, Rick Charette and the Bubblegum Band, reserved seating, $10/adults, $8/children, arrive early, Brewer Performing Arts Center, Brewer Community School, 92 Parkway South, Brewer. FMI: 207.404.5701 ext 5128, www.brewerperformingarts.com.
April 6, Saturday, 9am-4pm, Airport Mall Craft Fair–one of the few remaining interior Mall walkway shows, Airport Mall, 1129 Union Street, Bangor. FMI: 207.408.7520, www.airportmallcraftfairs.craftah.com.
April 7, Sunday, 10am-4pm, Waterville Kid Fest! Waterville Kid Fest features bounce houses, balloons, clowns, candy, games, food, music, cloths, face painting, dancing and singing. While the kids are playing, Mom and Dad will be browsing the booths and looking for info on day care, summer camps, immunizations, babysitters, clothing, music lessons, tutors, toys and more. 30 Elm Plaza, Waterville. FMI: 207.623.4735, www.townsquaremediamaine.ticketleap.com.
April 7, Sunday, 2pm, Monty Python's Spamalot, the 2005 Tony award-winning production named Best Musical, is lovingly ripped off from the classic film comedy Monty Python and the Holy Grai and tells the legendary tale of King Arthur and his knights of the Round Table while featuring a chorus line of dancing divas, not to mention cows, killer rabbits and French people, $21/Adult, $19/Senior & Youth, Waterville Opera House, 1 Common Street, Waterville. FMI: 207.873.7000, www.operahouse.org.
April 10, Wednesday, 4:30-8pm, 11th Annual Poets/Speak! More than 25 well-known and emerging poets, University of Maine students, local high school poets, and others celebrate National Poetry Month, featuring the debut of the online journal The Catch, Latin love poems and four Belfast poet laureates, live jazz by the Lidral Duo, refreshments, free, open to the public, Bangor Public Library, 145 Harlow Street, Bangor. FMI: 207.947.8336, www.bpl.lib.me.us.