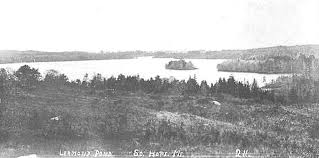 Overlooking Lermond Pond in Hope, Maine
Lermond Pond in the Mid Coast town of Hope, Maine, is a delightfully serene location to own lakefront real estate. The word hope means to cherish a desire with anticipation.  Like the small town it's set in, the pond is small, quiet and extremely desirable. You'll spend your time away from Lermond Pond anticipating your return.
Encompassing 173 acres, Lermond Pond has a maximum depth of 30 feet, with a mean depth of 14 feet. The five-mile perimeter offers nooks and crannies to explore by canoe or kayak as dragonflies dart about. The more adventurous might choose to portage their boats at the north side of the pond since Alford Lake is only thirty feet away. Adding to the serenity is the fact that no personal watercraft (jet skis) are allowed on the pond.
Water quality testing gives readings of above average. And there are no known invasive aquatic infestations in the pond. The Alford Lake-Lermond Pond Association works to preserve these precious bodies of water.
What kind of fish will I catch? This warmwater fishery features smallmouth bass, chain pickerel and white perch. A boat launch is located by the dam at Mill Stream.
Think classic Maine cabin, camp or cottage with a porch overlooking the pond. Private lakefront setting. Secluded and wooded location. Great views. Crystal clear water. Spectacular sunrises and sunsets. Friendly neighbors including Great Blue Heron, Bald Eagles and Common Loons–at no additional cost. Coffee in the morning. A book or nap in the afternoon. Evening cocktails.
You'll be only minutes from the village of Hope. Here you'll find the Hope General Store, which has operated in the same location since 1832 and today sells solar panels, imported goods, a huge selection of beer and has a deli and wifi. In addition, the general store serves as the post office.
Hope is also home to some local specialty shops including Hope Spinnery, a wind-powered fiber arts studio, and the eco-apple farms at Hope Orchards. Treat yourself to dinner at the Hatchet Mountain Publick House–a great eatery and pub with an antique shop located in a beautifully renovated barn.
When you want to indulge in the cultural richness of Mid Coast Maine, visit the Farnsworth Art Museum, Camden Opera House or take in a concert by the Bay Chamber. From your waterfront location it's a short drive to Camden, Rockland, Rockport or Belfast and all that the Penobscot Bay Region has to offer along the beautiful Maine coast.
Lermond Pond is located only two hours north of Portland and 3 1/2 hours north of Boston, making it an easy to reach destination.
If you seek a place to experience serenity, you need look no further. We've got homes on Lermond Pond, located where the "Mountains Meet the Sea," waiting for you to nestle in and cherish the memories you'll make.
To view lakefront property listings on Lermond Pond, click on the green box above.
To learn more about other ponds and lakes in the area, check out the blog links below.
Hobbs Pond, Hope, Maine: Live Your Summer Dream at Lakefront Property
Alford Lake, Hope, Maine: The Way Life Should Be for Lakefront Property Owners