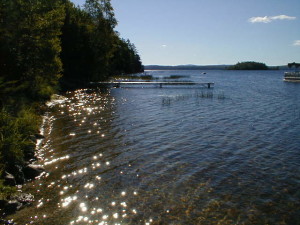 Sunshine Sparkles on Molasses Pond in Down East Maine
by Leigh Macmillen Hayes
Something Maine lakefront property owners may not be aware of is the effect metal mining has on our lakes. Nick Bennett, watersheds director and staff scientist for the Natural Resources Council of Maine, wrote an article about this topic for the winter issue of our Maine Lakes News Digest.
Nick informs us that though the Callahan mine in Blue Hill operated only from 1968 to 1972, "the site continues to leach heavy metals that are contaminating fish and other aquatic life even today. In fact, the most important cleanup activities haven't even started there, forty years after the mine shut down. The public will have to pay every penny of the cleanup cost, likely to be more than $20 million dollars." This is a huge burden for all taxpayers.
And it doesn't happen in just Maine. Writes Nick, "This unfortunate situation has repeated itself all over the United States, even with modern mines. For example, the Beal Mountain mine in Montana has been leaking cyanide and selenium into nearby waterways for decades. The mine opened in the late 1980s and closed in 1998 when its Canadian owner went bankrupt. Cleanup cost estimates range from $25 million to $250 million, and taxpayers will have to pay it all. The same is true at the Summitville gold mine in Colorado, which killed every living thing in a stretch of the Alamosa River in 1990. After that, its owner went bankrupt, and taxpayers have spent more than $200 million dollars to remediate the site. A water treatment plant must treat runoff from the site forever. Water treatment, combined with continued site maintenance, costs taxpayers about $2.5 million per year."
Most recently in Maine, J.D. Irving, Limited, which has operations in Canada and the USA and has been involved in Maine forest and timber production for years, "pushed a bill through the Legislature requiring Maine's Department of Environmental Protection (DEP) to weaken Maine's protections against mining pollution. Irving did this so it could have an easier time mining the very dangerous metal deposit at Bald Mountain in Aroostook County."
Nick warns us that the "DEP has obliged the Irving Corporation and proposed very weak rules that greatly increase the risk of serious water pollution. The Board of Environmental Protection (BEP), which has the first cut at these rules before they go back to the Legislature for final approval in 2014, appears ready to rubber stamp the weak rules. The proposed rules would allow mine tunnels under any Maine lake, and require a setback of just ¼ mile for open-pit mines near very high-value lakes. The rest of Maine's lakes wouldn't have even a ¼ mile setback."
Public testimony against passing the weak rules hasn't affected the BEP's decision making. For the sake of our lakes, we're thankful that the Natural Resources Council of Maine continues to work hard in support of much stronger rules.
As lakefront property owners, we encourage you to pay close attention to this issue. Contact your Legislators and ask them to support stronger rules that will keep our lakes pristine.
To learn more about lakefront properties for sale in Blue Hill, Maine, click on the green box above.
To learn more about the Down East Lakes Region of Maine, check out the blog links below.
Molasses Pond, Eastbrook, Maine: Life Slows Down for Lakefront Property Owners
Lakefront Property Owners Enjoy Hikes In and Around Ellsworth, Maine
Settle Your Soul at Lakefront Property on Upper Patten Pond in Ellsworth, Maine