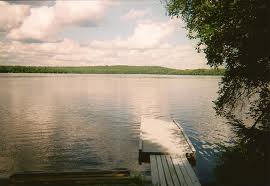 Peaceful Center Pond in Sangerville, Maine
Center Pond in Sangerville, Maine, offers a lakefront property haven for outdoor enthusiasts. Surrounded by forested land, classic Maine camps, cabins and cottages are located on this 376-acre lake.

With a maximum depth of 19 feet and a mean depth of 9 feet, Center Pond provides a good
warmwater fishery
. What types of warmwater fish will you catch? Expect white perch, yellow perch and chain pickerel to seek out your worms and lures. Brown trout are
stocked annually
. Anglers fish from boats and the beautiful shorefront of their homes. The pond is also a great place to snorkel.
Is there a boat launch on Center Pond? Yes, you'll find the launch on
Boat Landing Road
along the southern shore of the pond.
The
Center Pond Improvement Association
(CPIA) was formed in 1998 to "promote the protection and enhancement of the water quality of Center Pond and to preserve its ecological, economic, recreational and aesthetic value."
The water quality of Center Pond is average
. To date, thankfully, no invasive aquatic plants have been found. Be sure to check your boat for invasives or any plants before you float.
Center Pond is located in the center of Sangerville, where the population is under 2,000. Driving along the back roads in this area, you may feel as if you've stepped back in time–into a scene from a
Norman Rockwell painting
.
Known as
"The Town of Two Knights,"
apparently two young men from Sangerville, made their way in the world and were recognized by the British Royalty.
Sir Harry Oakes
left Sangerville with a Bowdoin College diploma in hand. He travelled the world to seek his fortune. After many years and adventures, he settled in Nassau, a Caribbean Island. In 1939, King George bestowed upon Oakes the title of "Baron" for his good works to help people in Nassau, and for a large contribution he gave to St. George's Hospital in London.
Sir Hiram Maxim
was an inventor from an early age. Over the course of his lifetime, he filed 271 patents, including for the following: "a prototype of a curling iron, aircraft, artillery, a flying machine, smokeless powder, coffee substitute, and various oil steam and gas engines." After creating "a gun that would load and fire itself by simply touching a button," he couldn't convince the US or France to order his automatic weapon. Settling in England, Maxim received an order from Her Majesty's Royal Forces for his invention. In 1901, he was knighted by Queen Victoria.
Center Pond and Sangerville are
close to Dover-Foxcroft and Guilford
. Bangor is within an hour's drive. Moosehead Lake is only 45 minutes away.
In this
Maine Highlands region
, outdoor enthusiasts will love the fishing, hiking, hunting, snowmobiling and skiing. Of course, you'll also want to make time to just plain relax at your lakefront property on Center Pond.
To learn more about lakefront property listings for sale on Center Pond, click on the green box above.
To learn more about other waterfront real estate properties in the Maine Highlands, click on the blogs below:
Togus Pond, Augusta, Maine: Make Your Lakefront Traditions Here
McGrath Pond, Belgrade & Oakland, Maine: Calming Oasis in Belgrade Lakes Region
Washington Pond, Washington, Maine: Lakefront Property Set Among Rustling Pine Boughs