September 5th, 2009 categories: Sebago Lakes Region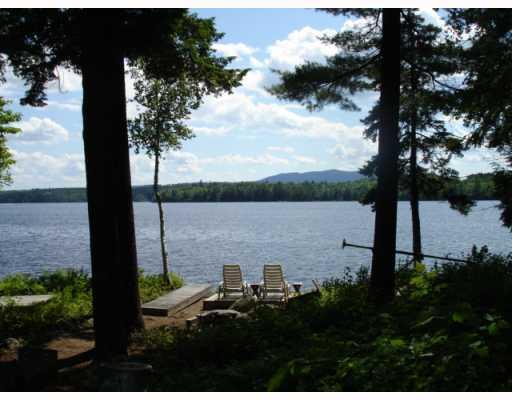 Highland Lake, in the heart of western Maine's Sebago Lakes Region,  provides a unique backdrop for the quaint village of Bridgton, Maine.
Located 45 minutes from Portland and just 25 from North Conway, New Hampshire, Highland Lake is one of the prettiest lakes in the region. It's approximately five miles long and stretches from downtown Bridgton to the edge of Sweden. The lake covers 1,334 acres and has a maximum depth of 50 feet with a mean depth of 20 feet.
Residents and visitors alike set out on the lake for fun in the sun. This picturesque setting is perfect for swimming, canoeing, kayaking, sailing, fishing, water skiing and more.
In the early morning you'll undoubtedly see several rowers. Members of the Maine Rowing Association keep their shells at Highland Lake. Each year they host a regatta–it's always the first Saturday in August.
With all of that activity, you'll be surprised how quiet it really is on the lake. Loons will greet you from any corner. Okay, so they aren't exactly quiet sometimes. But to hear them call to each other always stirs my heart. And occasionally you might see a moose.
The lake is best known for Brown Trout, Smallmouth Bass and White Perch. Trailered boat access is available at the town-owned ramp located near the outlet. A boat wash station, constructed by the Lakes Environmental Association, is located behind the bathrooms in the parking lot. The Maine DEP considers the water quality to be above average.
With numerous islands, shoals, a couple of coves and undeveloped shoreline, there are plenty of places to explore and picnic. From the eastern shore, I love to watch the sunset on the Presidential Mountain Range of New Hampshire. You can't beat the natural beauty and serene tranquility of this intown lake.
Beside the boat ramp is a free town beach and playground. Across from the beach, you can access the Stevens Brook Trail, which winds its way beside Stevens Brook all the way to Long Lake, about a mile and a half away.  Walk across a wooden bridge over Stevens Brook to Shorey Park, and you can shop or eat in Bridgton.
In other words, Highland Lake has it all.
FMI: Maine Rowing Association, www.rowmaine.org
Check out the current lakefront property for sale on Highland Lake by clicking below: