Archive for the 'Lake Community News' Category
July 29th, 2009 categories: Lake Community News, Sebago Lakes Region

Water is the place to be in the Sebago Lakes Region as summer finally kicks into place. The weather looks great for all the outdoor activities planned for this weekend.
There is so much going on, but a few water events include the 18th Annual Highland Lake Regatta, a rowing event in Bridgton(www.rowmaine.org), The Great Adventure Challenge triathlon, which includes kayaking on Moose Pond in West Bridgton (www.maineadventureracing.com), the 16th Annual Naples Antique and Classic Boat Show on the Causeway (www.mountainviewwoodies.org) and the 18th Annual Maine State Triathlon and Aquabike on Songo Pond in Bethel (www.bethelmaine.com).
Here are more activities going on in the area in the week to come:
July 31, 7:30 p.m. "Crisis on 13th Avenue," written by Jake Dunham, presented by The Children's Backyard Theater Group, starring many local actors and actresses, The Lovell Brick Church for the Performing Arts, 502 Christian Hill Road, Lovell. FMI:  http://lovellbrickchurch.org
July 31, 8:00 p.m. Joan Baez, Merrill Auditorium, 239 Park Avenue, Portland; Tickets: $37.50 and $42.50. FMI: 207.842.0800 or https://tickets.porttix.com/public
August 1, 7 -8:30 a.m. registration, 18th  Annual Highland Lake Regatta, Maine State Rowing Championships held at Highland Lake Resort, North High Street, Bridgton, 5,000-meter stake and 1,000-meter sprint; entry forms available on-line; no dogs please as host doesn't allow them. FMI: 207.647.2196 or www.rowmaine.org
August 1, before 8:00 a.m. registration, race begins at 9.a.m. The Great Adventure Challenge, a one-of-a-kind triathlon, kayak 2.5 miles on Moose Pond, mountain bike 14 miles and dash/hike 2 miles up and down Pleasant Mountain, entertainment and vendors at Shawnee Peak Ski Area, presented by Good Neighbors, Inc., which provides life supports for Lakes Region residents with developmental disabilities; register before 8 a.m. at Shawnee Peak, $60 for singles, $150 for teams of 2 or 3. FMI: 207.647.8244 x 15 or www.maineadventureracing.com, www.goodneighborsinc.com
August 1, 10 a.m. -3 p.m. 16th Annual Naples Antique and Classic Boat Show on the Causeway, Naples, presented by Mountainview Woodies Classic Boat Club, some of the rarest and most beautiful antique and classic boats and cars still in existence will be on display, (rain date August 2) FMI: www.mountainviewwoodies.org
August 1, 5 p.m. Baked Bean Supper, Sebago Town Hall, 406 Bridgton Road (Route 107), Sebago. FMI: 207.787.2457 or www.townofsebago.org
August 1-2, 10 a.m. -4 p.m. Scribner's Mill "Back to the Past" Celebration, Scribner's Mill Preservation, Inc., Scribner's Mill Road, Harrison, watch 19th century wood-product machinery at work and tour the 1820 Carlson Farmstead and Museum, Pig Roast Supper on Saturday at 5 p.m. FMI: www.scribnersmill.org
August 2, 8 a.m. race starts, 18th Annual Maine State Triathlon and Aquabike, Bethel Inn Lakehouse on Songo Pond, Routes 35 and 5, Bethel; 1 k swim, 24 k bike, 5.8 k run; must pre-register on-line at www.active.com . FMI: 207.824.2282 or www.bethelmaine.com
August 3, 6:30 p.m. Theater on the Lawn, a one-hour version of "Romeo and Juliet" performed by the Poland Players, Auburn Public Library, 49 Spring Street, Auburn; bring your own blanket and picnic basket. FMI: 207.333.6640 or www.auburn.lib.me.us
August 3, 7:30 p.m. Piano Concert by Cody Michaels, Eastman Performing Arts Center at Fryeburg Academy, Cody's music is highly inspired by his experiences in the White Mountains, $10 adults, $5 for students and seniors. FMI: 207.935.9232 before 1 p.m. or www.fryeburgacademy.org
August 4, 7:30 p.m. "Mendelssohn's 200th Birthday" presented by Sebago-Long Lake Chamber Music Festival, Deertrees Theatre and Cultural Center, 162 Deertrees Road, Harrison, Tickets $20, students free. FMI: 207.583.6747 or www.deertreestheatre.org
August 5, 7:30 p.m. "Loons, Loons, Loons" presentation by Bonny Boatman, sponsored by the Greater Lovell Land Trust, Charlotte Hobbs Memorial Library, 227 Main Street, Lovell. FMI: 207.925.3177 or www.gllt.org
Spoken by Jon Whitney | Discussion: 2 Comments »
July 11th, 2009 categories: Lake Community News, Observations and Commentary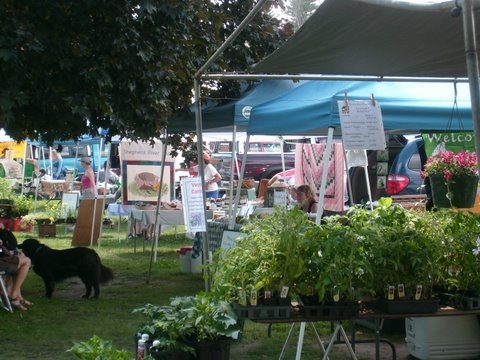 Before you begin your day on Sebago Lake, Panther Pond, Highland Lake or any one of the numerous lakes and ponds in the western Maine Mountains and Lakes Region you might want to visit one of the farmers' markets sprinkled throughout the area.
Farmers' markets in our neck of the woods are vibrant with color, lively chatter and friendly faces. They promote healthy living and give us a place to purchase locally produced foods and goods.
I'm always amazed at the variety of seasonal offerings including but not limited to the following: seedlings, organic produce, plants, herbs, fruit, flowers, eggs, honey, wool and fleece, handcrafted soaps, soy candles, breads and jellies, cider, goat cheese, lamb, pork, and goat meat.
When we buy locally, our dollars have a greater impact in our communities. If you purchase a lakefront property in this area, you'll be able to greet your neighbors, meet new friends and get to know your farmers and growers at these open-air markets.
I've listed the local farmers' markets below for your shopping convenience:
Greater Bridgton Lakes Region:
Lovell–Wednesdays, 9 a.m. -1 p.m., in front of Brandon Gregor Marine and the Wicked Good Store
Naples–Thursdays, 9 a.m. -1 p.m., Naples Village Green, Lambs Mill Road
Harrison–Fridays, 1:30-5:30 p.m., town parking lot between the town office and Harrison Village Library
Fryeburg–Fridays, 8 a.m.-1 p.m., Sharon's Seafood & ReMax Realty, Route 302
Bridgton–Saturdays, 8 a.m.-1 p.m., Depot Street behind Reny's Department Store
Oxford Hills:
Norway–Thursdays, 2-6 p.m., corner of 419 Main and Deering Streets
Poland–Fridays, 2-6 p.m., Poland Crossing Plaza, Route 26
Bethel:
Bethel–Saturdays, 9 a.m. -noon, Bethel Health Care Center Parking Lot, Railroad Street
Sebago Lakes Region:
Windham–Saturdays, 8 a.m.-noon, Manchester School, 709 Roosevelt Trail
Greater Portland:
Falmouth–Wednesdays, 1-5 p.m., WalMart parking lot, Route 1
Yarmouth–Thursdays, 1-5 p.m., Sacred Heart Church, 320 Main Street
Freeport–Fridays,1-5 p.m., Freeport Town Hall, Main Street
Cumberland–Saturdays, 8:30 a.m.-noon, Greely High School, 303 Main Street
York–Saturdays, 9 a.m.-noon, Stonewall Kitchen Factory, 1 Stonewall Lane
Lewiston/Auburn:
Lewiston–Tuesdays, 2-6 p.m., Kennedy Park, corner of Bates and Pine Streets
Lewiston–Wednesdays, 11 a.m. – 2 p.m., St. Mary's, Lafayette and Campus Avenues
Lewiston–Thursdays, 11 a.m.-2 p.m., Central Maine Medical Center, High and Main Streets
Auburn–Wednesdays and Saturdays, 9 a.m. -3 p.m., Turner Street, behind the Auburn Mall
Auburn–Fridays, 2-6 p.m., Great Falls Art Center, Main and Academy Streets
FMI: www.farmersmarketonline.com/fm/Maine.htm
Spoken by Jon Whitney | Discussion: No Comments »
April 22nd, 2009 categories: Lake Community News, Maine Waterfront Living, Observations and Commentary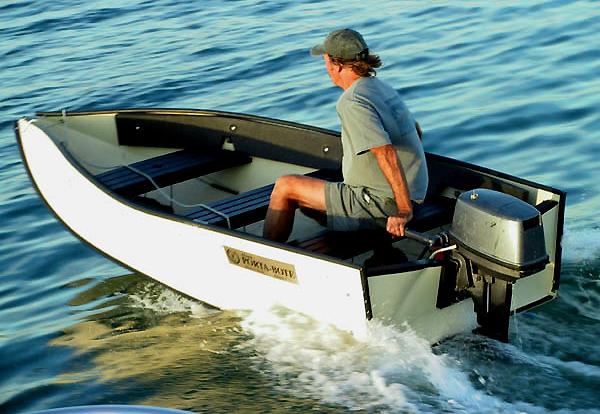 We often get asked by Maine lakefront property buyers what the restrictions are on the bodies of water they are buying on. The restrictions have to do with whether or not motor boats are allowed on a body of water and, if so, if there is any limitation on the size, or horsepower, that is allowed. Here is a list for your reference:
MOTOR SIZE RESTRICTIONS ON INTERNAL WATERS
No motorboats allowed:
Cushman Pond, Lovell,
Horseshoe Pond, Denmark
Boston Pond, Denmark
Bradley Pond, Lovell
Trout Pond, 13R5
Wylie Pond, Boothbay
Little Kennebago Lake, T3R4
Upper Dam Pool, T4R1 (from gates of dam, downstream or westerly 150 yards)
Durgin Pond, T2RG BKP WKR
Little Berry Pond, T2R6 BKP WKR
Lone Jack Pond, 12RS BKP WKR
Round Pond, T1 R6 BKP WKR
Fry Pan Pond, T2R5 BKP EKR
Blood Pond, T2R13 WELS
Loon Lake, Rangeley and Dallas Townships
Martin and/or Long Pond, The Forks Pit
Big Brook from Burt Garrity Road in T13 R1O WELS to and including Big Brook Lake in T14R1O WELS
Simpson Pond, Roque Bluff
Southern most part of Thompson Lake separated from the main body by a causeway known as The Heath, Casco
Little Pond, Damariscotta
Moxie Long Bog, Bald Mountain twp.
Clay Pond, Fryeburg
Watson Pond, Rome Twp.
Walton's Mill Pond, West Farmington
Sand Pond, Limington Twp.
Saddleback Lake, Dallas Plt.
Hooper Pond (Little Sabattus), Greene
Adams Pond, Boothbay
Levenseller Pond, Searsrnont
Portage Lake, T13R6 WELS, that portion known as the Floating Island Area, north and westerly of a line beginning at the eastern edge of the marshy peninsula running out from Hutchinson Ridge, running 50 yards outside of the floating islands in a northerly direction to the mouth of Mosquito Brook
Quimby Pond, Rangeley
Jerry Pond, so called, situated within the boundaries, or having a shoreline abutting, the incorporated municipality of Millinocket and the unincorporated Townships being TlR7 and TAR7
Upper and Lower Ox Brook Lakes in the towns of T6ND, T6R1 and Talmadge
Snow's Pond (as referred to in the Dunham-Daves Work Plan) situated west of Rt. 7, Dover-Foxcroft
Lily Pond, Edgecomb
Nesowadnehunk (Sourdnahunk) Little, T5R11
Motorboats with more than 6 horsepower prohibited:
Perley's Pond, Denmark
Little Pond, Denmark
Ell and/or L Pond, Sanford and Wells
Black Lake, Fort Kent
Farrington Pond, Lovell
Heald Pond, Lovell
Horseshoe Pond, Stoneham and Lovell
Haley Pond, Rangeley Twp. and dllas Plt.
Rich Mill Pond, Standish
Boyd Pond, Bristoll
Harriman Pond, Dedham
Long Pond, Denmark
Motorboats with more than 10 horsepower prohibited:
Lower Range Pond, Poland
Sand Pond, Sanford
East Carry Pond, T2R3
West Harbor Pond, Boothbay Harbor
Five Kezar Ponds: (Mud, Little Mud, Back, Middle and Jewett Ponds located singly or jointly in Waterford, Stoneham and Lovell)
Timoney Lake, Oakfield and Smyrna
McKenney Pond, Holeb Township
Big Fish Pond, Holeb Township
Barrett Pond, Holeb Township
Turner Pond, Forsythe Township
Little Turner Pond, Forsythe Twp.
Long Pond, Forsythe Township
Arnold Brook Recreation Watershed Lake In Presque Isle
Lard Pond, Turner
Echo Lake, Mount Desert
Stevens Pond, Liberty
Moulton Pond, Dedham
Mainstream Pond, Harmony
Hobbs Pond (Little Pennessawassee), Norway
Toddy Pond, Brooks, Waldo County
Knickerbocker Pond, Boothbay
Eagle Lake and Jordan Pond, Mt. Desert Island
Long Pond, Twp. E and Twp. D
Motorboats with more than 10 horsepower prohibited from June 1 to September 15:
Little Black River tributary to the St. John River in Aroostook County
Motorboats with internal combustion engines prohibited:
Garland Pond, Sebec and Dover-Foxcroft
York Pond, Eliot
Mt. Blue Pond, Avon
Sewell Pond, Arrowsic
Nokomis Pond, Newport and Palmyra
Allagash Wilderness Waterway
Canoes only – with motor not to exceed 10 h.p. from Lock Dam north to West Twin Brook
No restriction on motorboats of any type on Telos Lake, Round Pond (T6R11) and Chamberlain Lake
Canoes only – no motors – on Allagash Lake and Allagash Stream down to Chamberlain Lake.
Baxter State Park
No motorboats allowed except on Webster and Matagamon Lakes.
Lt. G. Manuel Wildlife Area, Hodgdon, Maine
Please don't hesitate to contact your friends at Mr. Lakefront to get any additional clarification, more information, or get an update. If you want to take a look at some great lakefront property it's easy to get started by just clicking on our Lakefront Locator. Thanks!
Spoken by Jon Whitney | Discussion: No Comments »
March 31st, 2009 categories: Lake Community News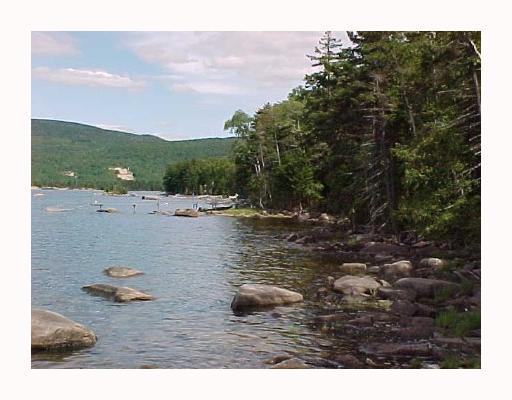 The ongoing battle being fought against invasive plant species as well as the increased scrutiny on lakeside erosion runoff has gone a long way in keeping our beautiful lakes and ponds clean, clear, and milfoil-free. But the battle being waged is one that will probably never be won.
Those who fight this battle in the most direct sense are, at best, hoping for a draw and know that only willpower and persistence will hold the line against degraded water quality and milfoil infestation.
The quality of the water in area lakes and ponds is significantly impacted by the amount of erosion control going on around its perimeter. Soil erosion that runs off into a lake or pond adds the nutrient phosphorus to the water which acts as a natural fertilizer in the water and encourages algae growth. Algae blooms on warm summer days are not dangerous, but they do affect the quality and clarity of the water. Anything that can be done by lakefront landowners to divert water runoff away from the lake and into vegetated areas is the primary and first line of defense against phosphorus runoff.
There are many ongoing efforts by lake association volunteers to monitor the condition of private roads and driveways to lakefront properties to make sure storm water runoff is being diverted in an appropriate manner. In some cases, there is even local money available to repair poorly designed roads so that water runoff is handled more effectively.
If you're a lakefront property owner, check to see where water on your property is going and contact your local lake association to find out what you can do to be a good steward of the lake.
As far as milfoil is concerned, the challenge is big and ongoing. It seems that progress is being made in finding effective ways to remove it, but for every place there has been success, there are others that show new growth or just can't be addressed because of lack of manpower or money or both.
Again, grassroots action has gone a long way to holding the line against milfoil infestation and the local Lakes Environmental Association has played a major role in developing and implementing effective techniques to get rid of the stuff. But more has to be done.
Here is an article that reports on the recent 10th annual milfoil summit held recently in Lewiston: Summit's Focus: Containing, Waging War on Invasive, Destructive Milfoil.
Here are links to two YouTube film clips that talk about the local efforts in the Sebago Lake area in dealing with the milfoil problem.
What's So Bad About Milfoil- Part 1
What's So Bad About Milfoil- Part 2
Spoken by Jon Whitney | Discussion: 1 Comment »
March 1st, 2008 categories: Lake Community News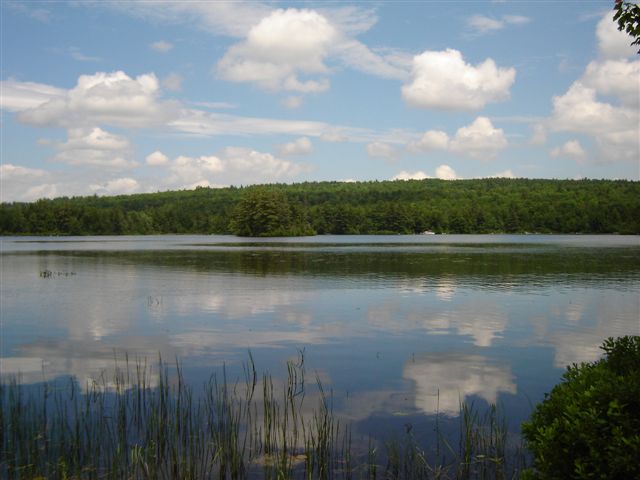 One of the priorities we established when we started this blog about a month ago was to share great information with people who own or want to own Maine waterfront property. We think we have made a good start down that road, but know that the news and information that is available out there and the need of interested parties to stay informed is an ongoing pursuit.
With that thought in mind, I went through my mail today and saw the latest newsletter from the local Lakes Environmental Association. Headquartered in Bridgton, the LEA has been a consistent watchdog and protector of the lakes and ponds in the area for over 30 years. Their ongoing programs to educate and involve the local community in issues surrounding the conservation and cleanliness of area lakes and ponds has been impressive. They also strive to bring a general awareness of the natural world around us to all who care to read and listen – and participate!
Anyone who has an interest in Maine waterfront real estate should take a look at the LEA newsletter. This particular issue talks about the upcoming milfoil summit on March 7th, the effects of high levels of phosphorus and nitrogen on amphibians, and new educational programs starting up for kids 10 – 15 years of age. (Environmental awareness needs to start at an early age – don't you think?!) There's also a table listing 38 area lakes and ponds that are monitored by the LEA for things like water clarity, phosphorus levels, ph levels, and risk levels.
Check out the latest LEA Newsletter. Maybe you'll even become a member!
*************************************************
If you enjoyed reading this article, why not subscribe to be notified of the next one?
Spoken by Jon Whitney | Discussion: No Comments »
February 28th, 2008 categories: Lake Community News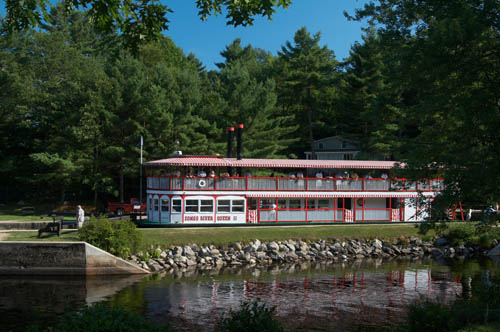 The Naples Causeway Bridge controversy continues to generate a lot of discussion in this lake region community.
The Maine Dept. of Transporatation has now scheduled a meeting to promote their fixed bridge plan, which has many Naples waterfront business owners and area residents up in arms. The local board of selectmen is urging everyone to keep an open mind, but there seems to be a groundswell of opposition to replacing the current swing bridge with a fixed bridge. The cost of the project, whatever happens, plays a large part in what the state is proposing as funds are short and many projects need attention.
The main bone of contention is that a fixed bridge, as proposed, would not be high enough to allow the Songo River Queen II or tall-masted sailboats sufficient room to pass under the span, thus confining them to one side of the bridge or the other.
There could also be a ripple effect in the local waterfront real estate market. Any change in the status quo is bound to affect current and potential waterfront owners' perceptions regarding access to the 45 miles of contiguous waterway by certain types of boats. If you're a sailboat owner who wants  to sail on all three bodies of water – Long Lake, Brandy Pond, and Sebago Lake – and find you can no longer pass through the swing bridge in Naples, it might have you going elsewhere to purchase that special waterfront property that suits your sailing needs.
In today's Bridgton News there is a full report on the latest developments in this ongoing issue. You can read all about it in our Maine Lake News.
************************************************
If you enjoyed reading this article, why not subscribe to be notified of the next one?
Spoken by Jon Whitney | Discussion: No Comments »
February 22nd, 2008 categories: Lake Community News, Sebago Lakes Region
A week or two ago I posted an article about the ongoing controversy swirling around several new proposals for the repair or replacement of the Causeway Bridge in Naples on Rte. 302.  A  news article today in our local Bridgton News tells me that the whole project is being put on hold pending further study.
There are currently three active proposals attracting consideration and the Maine Department of Transportation felt that it would be better to get more public input before choosing an option and proceeding with a schedule. The long and short of it is that nothing will be happening with the bridge in 2008.
I have posted the full article from the Bridgton News in our Lake News on our website and you can see it here.
*************************************************
If you enjoyed reading this article, why not subscribe to be notified of the next one?
Spoken by Jon Whitney | Discussion: No Comments »
February 13th, 2008 categories: Lake Community News
I just got a notice from the local Chamber that the Naples Winter Carnival, scheduled for this weekend, has been cancelled. It may seem hard to believe with all the snow we're having, but ice formation on the lake has been mediocre making it unsafe and undesirable for snowmobiling. Here's what the release said:
Hello Everyone,
I regret to tell you that the Winter Carnival Committee as well as the officers of the snowmobile club have decided to cancel this years events. We feel that the lack of good solid ice as well as all the slush on the lake this year, makes it almost impossible for us to have a safe and enjoyable function. The track is half slush and half snow, the plows can't plow the slush, and water keeps popping up creating a mess.
The Save Sebago Cove function will still be on for Friday night at Shakers Lounge but all other functions are now cancelled. Please enjoy yourself on your sleds this weekend for one of the snowiest winters in many years. Trails should be in pretty good shape other than a few water holes so please drive carefully.
Thanks to the committee members and all who helped try to make the Carnival a reality. A special thanks goes out to Dawn and Dan Allen for hosting all the meetings at their home.
For more info go to www.mainelakeschamber.com  or call the Chamber in Bridgton at 207-647-3472
Spoken by Jon Whitney | Discussion: No Comments »
February 8th, 2008 categories: Lake Community News
A recent hearing conducted by the Maine Department of Transportation on the viability of a new, fixed bridge proposal struck fear in the hearts of several business people in the Naples area.
The old swing bridge that spans the waterway that joins Long Lake to Brandy Pond needs replacing. An original estimate of $11 million to replace it had been seen as "doable", but now that cost estimate has ballooned to $18 million – an amount the state doesn't have.  A proposal for a fixed bridge, at a cost of $8 million, would fit the DOT budget, but has many critics and detractors in the Lakes Region area.
Local marina owners, the owner of the Songo River Queen, and other area business people all voiced their concerns at the recent hearing citing history, local economics, and image as reasons for not favoring the fixed bridge route.
A fixed bridge would limit the amount of boat traffic that could navigate the full extent of the 45 mile waterway that connects Harrison, in the north, with Standish, in the south. Boaters have travelled that distance – by way of Long Lake, Brandy Pond, the Songo River, through the Songo Lock, then into Sebago Lake – since 1830.
You can read the full text of the article here, then stay tuned for new reports as this story develops.
Spoken by Jon Whitney | Discussion: No Comments »