December 12th, 2013 categories: Downeast Lakes Region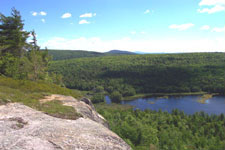 Cliffs and Mountains Surround Hopkins Pond in the Downeast Lakes Region of Maine
The crystal clear water of Hopkins Pond in Clifton and Mariaville, Maine, is a diamond in the minds of lakefront property owners. Envision a calm body of water surrounded by a mixed forest. And then add yourself into the picture: floating on a tube in the warm sun, sliding silently along in a kayak or casting a line to catch lake trout.

Tucked into the scenic Downeast Lakes Region of Maine, Hopkins Pond encompasses 429 acres and has a maximum depth of 65 feet with a minimum depth of 26 feet.
The water quality is above average
and there are no known invasive aquatics.
What kind of fish will tug on your hook? This coldwater fishery is well known for lake trout, brook trout and even a few salmon. It's especially popular during the ice fishing season. Anglers should note that certain restrictions do apply to Hopkins Pond: S-8 and S-25 in particular. Is there a boat ramp? Yes, it's maintained by the Hopkins Pond Mariaville Homeowners Association.
Sections of the shoreline are boulder strewn, especially behind the islands. Watch your boat prop in these areas. Or better yet, spend time exploring via your canoe or kayak. Keep your eyes open for turtles sunning themselves on the rocks. Also look for loons and herons.
In addition to water activities, there are plenty of trails to hike and bike. This area around  Hopkins Pond, which is just twenty minutes from Bangor and 1 hour from Acadia National Park, is dominated by other ponds and lakes, cliffs and mountains. If you live in Portland, Maine, you can be at the pond in 2.5 hours. From Boston, it's a 4.5 hour drive.
When you own lakefront property on Hopkins Pond, you can enjoy tranquility at your quiet and relaxing getaway. Awake to the call of the loons, read a book on a hammock beside the pond, swim a