August 4th, 2013 categories: Mid Coast Lakes Region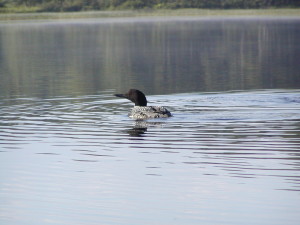 Common Loon Ripples the Calm Waters of Medomak Pond in Waldoboro
Waldoboro is an historic seaside village that once served as a ship building center on the Medomak River. Located an hour and twenty minutes north of Portland and three hours and twenty minutes from Boston, Waldoboro is home to the Waldo Theatre, which offers a wide range of entertainment for all ages, Borealis Breads, where each loaf is "an edible work of art," and the quintessential  Moody's Diner, still a Maine favorite over 80 years after it first opened–we highly recommend that you save room for pie. And once you're stuffed with pie, head outside for a walk or hike and explore the mill ponds, rivers and saltmarshes of the area.

Burkett Mill Preserve
Two trails loop through the mixed hardwood and conifer forest and wetlands of this 362-acre preserve. The Bog Rim Trail is a 1.15 mile loop and the Farnsworth Brook Trail is a one-mile loop. The property, owned and maintained by the Medomak Valley Land Trust, is known for being "the largest roadless area on a coastal peninsula between the Camden Hills and York."
Degree of Difficulty
: Moderate
Trailhead Access
: Goshen Road (Burkett Mill Road), Waldoboro
Goose River Peace Corps Preserve
Two trails form a network through the 54 acres of woodland a this preserve. The one-mile Goose River Trail follows its namesake for 700 feet before looping back toward the road. Across the street, the Mill Pond Trail is .8 mile long and leads along the edge of a bog and former mill pond. A trail map is available from the Medomak Valley Land Trust.
Degree of Difficulty: Moderate
Trailhead Access: Finntown Road, Waldoboro
Osborn Finch Wildlife Sanctuary
This walk begins at a grassy field, which leads to a moss-draped woodland. The .4-mile loop leads to the Medomak River, where you can enjoy the flora and fauna of the river. There is a Cabin Trail, which is restricted to those staying at the cabin. Reservations are available from the Pemaquid Watershed Association.
Degree of Difficulty: Easy
Trailhead Access: Dutch Neck Road, Waldoboro
Saltmarsh Woods
A two-mile round trip will take hikers along the edge of the western branch of Broad Cove on the Medomak River. Along the way, look for vernal pools, old foundations and small waterfalls.
Degree of Difficulty: Moderate
Trailhead Access: Gross Neck Road, Waldoboro
Bass Rock Preserve
This ten acre preserve features a .4-mile round trip trail leading to the banks of Muscongus Sound. Wide expanses of exposed ledges offer magnificent views of Muscongus Bay. Do beware of slippery rocks as the tide flows out.
Degree of Difficulty: Easy
Trailhead Access: Back Shore Road, Bristol
To learn more about lakefront properties for sale on Medomak Pond, click on the green box above.
To learn more about the ponds of Waldoboro, check out the blog links below.
Medomak Pond, Waldoboro, Maine: Simply A Perfect Lakefront Getaway
Sidensparker Pond, Waldoboro, Maine: Lakefront Property Owners Let Worries Fall Away
Duckpuddle Pond, Nobleboro & Waldoboro, Maine: Remote Lakefront Property in Mid-Coast Maine