October 10th, 2012 categories: Belgrade Lakes Region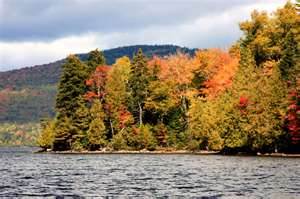 "Evening Flat Water Paddle," Wilson Lake
October 11, Thursday, 6:30pm, Paul Doiron, author of "The Poacher's Son and "Bad Little Falls," free, Lithgow Public Library, 45 Winthrop Street, Augusta. FMI: 207-626-2415, www.lithgow.lib.me.us.
October 12, Friday, 5-8:30pm, Dempsey Challenge Community Celebration, Art walk events, musical performances, illustrating the theme of hope, healing and support of individuals, free, Downtown Lisbon Street, Lewiston. FMI: 207-782-7228, www.dempseychallenge.org.
October 12, Friday, 7:30pm, Frank Glazer Retrospective, Schoenberg's Six Short Pieces and music by Shubert, Brahms and Chopin, limited number of free tickets available for seniors and students, $10, Bates College, Olin Arts Center, 75 Russell Street, Lewiston. FMI: 207-786-6161, www.batestickets.com.
October 13, Saturday, 11:30-6:30pm, Swine and Stein Oktoberfest, live music from Maine bands, local prk products, beer tastings, children pumpkin carving and more, the atmosphere is appropriate for all ages who want to get out and enjoy local food, music and beer, $15/with beer tasting, $10/without beer tasting, free/children under 12, Water Street, Gardiner. FMI: 207-582-3100, www.gardinermainstreet.org.
October 13, Saturday, 7 and 9pm, Bob Marley, Maine comedian, $22.50, The Waterville Opera House, 1 Common Street, Waterville. FMI: 207-873-7000, www.operahouse.org.
October 13, Saturday, 7:30pm, "Early Evening Show," with comedian Mike Miclon and his cast of musicians and comedians. $19, $10/students, Johnson Hall Performing Arts Center, 280 Water Street, Gardiner. FMI: 207-582-7144, www.johnsonhall.org.
October 17, Wednesday, 5:15pm, Evening Flat Water Paddle, Wilson Lake, get out on the water and leisurely explore a local lake by kayak, appropriate for all ability levels, bring your own kayak if possible, limited number of kayaks available for rent, minimum age of 13, under 13 allowed with preapproval and adult supervision, $5/non-FRC members, free/members, University of Maine, Farmington. FMI: 207-778-7495, www.umf.maine.edu.