May 30th, 2012 categories: Belgrade Lakes Region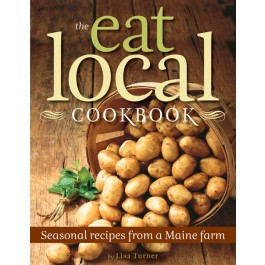 Author of "The Eat Local Cookbook," at Lithgow Library, Augusta
May 31, Thursday, 6:30pm, Lisa Turner, author of "The Eat Local Cookbook," of Laughing Stock Farm in Freeport, has gathered more than 100 recipes from Maine's top chefs, farmers, home cooks, and her own kitchen, free, Lithgow Public Library, 45 Winthrop Street, Augusta.  FMI:  207-626-2415, www.lithgow.lib.me.us.
May 31- June 2, Thursday-Saturday, 8pm, "Pageant Play," comedy, sugar and spice and everything nice that's what little girls are made of, their pushy, pageant mothers…not so much, a clever peek into the world of spray tans, sequined gowns, and flippers, this hilarious satire is set in the exotic world of pint-sized Texas beauty pageants, $19-27, Lakewood Theater, 75 Theater Road, Madison.  FMI:  207-474-7176, www.lakewoodtheater.org.
June 1-June 3, Friday-Sunday, 8pm/Friday and Saturday, 2pm/Sunday, "Rabbit Hole," David Linsay-Abaire's Pulitzer-prize winning play, deals with the way family members survive a major loss, and includes comedy as well as drama, $18, Community Little Theatre, 30 Academy Street, Auburn.  FMI:  207-783-0958, www.laclt.com.
June 2, Saturday, 7pm, Balkan Concert, includes delicious Bulgarian cuisine, soloist Elitsa Stoyneva performs with two Maine Balkan choirs, $10/general, $5/students, free/12 and under, Hampden Highlands United Methodist Church, 44 Kennebec Road, Hampden.  FMI:  207-356-2505, www.mainetoday.com.
June 2, Saturday, 9am-11pm, Festival Franco Fun 2012, annual all-day party, activities include magic show, storytelling, live music and more, $10, Franco American Heritage Center, 46 Cedar Street, Lewiston.  FMI:  207-783-1585, www.francocenter.org.
June 2, Saturday, 8am-1pm, Guided Spin Cast Fishing, with Maine Guide Gary Hayward, no license needed, canoes and equipment provided, raindate June 3rd, $5, Hidden Valley Nature Center, Egypt Road, Jefferson.  FMI:  207-586-6752, www.hvnc.org.
June 3 and 4, Sunday and Monday, 8:15pm, John Gorka, part of the folk movement since the late 80's, slowly and steadily caving out his niche, it is Gorka's hoest writing and ability to say it all with an economy of words that has earned him accolades from the music industry and his peers, $30, Slates Restaurant, 167 Water Street, Hallowell.  FMI:  207-622-9575, www.slatesrestaurant.com.
Leave a Reply