May 23rd, 2012 categories: Sanford Lakes Region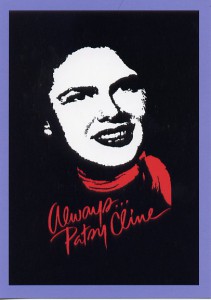 "Always…Patsy Cline," Ogunquit Theater
May 24, Thursday, 2:30pm and 8pm, "Always…Patsy Cline," musical, down home country humor, true emotion and unforgettable hits of Country Music Mega Star Patsy Cline converge in this inspirational show told through the letters of her friend Louise Segar, $29-$55, Ogunquit Playhouse, 10 Main Street, Ogunquit.  FMI:  207-646-5511, www.ogunquitplayhouse.org.
May 24, Thursday, 7pm, 12th Annual "Jazz a la Mode," special guests Saco Bay Vocal Jazz Choir, Thornton Academy Jazz Band with pie a la mode, $5, Thornton Academy, Garland Auditorium, 438 Main Street, Saco. FMI:  207-282-3361, www.thorntonacademy.org.
May 24, Thursday, 8pm, Toubab Krewe, instrumental with Mali influence, $25-$40, Jonathan's Restaurant, 92 Bourne Lane, Ogunquit.  FMI:  207-646-4777, www.jonathansrestaurant.com.
May 25, Friday 5-8pm, Biddeford Art Walk, three new venues on Saco Island added, artist Patricia Flynn is hosting a grand opening of the new River Birch Gallery, Suite 1105, the Saco River market will be featuring crafters, and locally grown/made produce and goods, and much more  free, Downtown Biddeford.  FMI:  207-229-3560, www.biddefordartwalk.com.
May 25, Friday, 7:30pm, "The Miser," classic comedy presented by Kennebunk High School and Performing Arts Department, $8, Kennebunk High School Economos Auditorium, 89 Fletcher Street, Kennebunk.  FMI:  207-985-1110, www.rsu21/khs.shtml.
May 25, Friday, 8pm, "The Last Romance," golden years comedy love story for all ages by Joe DiPietro, $20, City Theater, 205 Main Street, Biddeford.  FMI:  207-282-0849,  www.citytheater.org.
May 26, Saturday, 10am-12pm, Hamilton House Perennial Sale, welcome spring with perennials divided from plants in the celebrated gardeners, cottage and museum shop open, Hamilton House, 40 Vaughan's Lane, South Berwick.  FMI:  207-384-2454, www.historicnewengland.org.
Leave a Reply