May 9th, 2012 categories: Sanford Lakes Region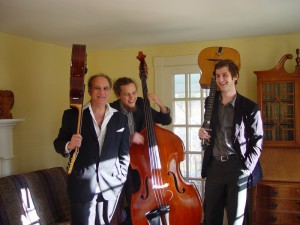 "Ameranouche," at The Oak and Ax, Biddeford
May 10-12, Thursday-Friday, 10am-5pm/Thurs-Fri, 10am-2pm/Sat, Fantastical Art Exhibit, featuring artists Carey Armstrong-Ellis, Tess Feltes, Robert Squier, and Teri Weidner, fantastical depictions of creatures both strange and familiar, free, York Public Library, 15 Long Sands Road, York.  FMI:  207-363-2818, www.york.lib.me.us.
May 10, Thursday, 8pm, Ameranouche, gypsy jazz trio, unique gypsy sound, undeniable talent and cool, mellow stage presence makes them a crowd favorite at any live show, $8, The Oak and The Ax, 140 Main Street, Biddeford.  FMI:  www.theoakandtheax.blogspot.com.
May 12, Saturday, 7:30pm, All Star Evening of Pops, performance by the rousing 30 piece All Star Concert Band, scrumptious deserts during intermission, annual benefit for Leavitt's Mill Free Health Center, $15/general, $13/seniors and students, free/under age 12, Saco River Range Grange Hall, Salmon Falls Road, Bar Mills.  FMI:  207-929-6472, www.sacorivergrangehall.org.
May 12, Saturday, 8pm, "The Fools," Boston rock band, with hit songs like:  Psycho Chicken; Life Sucks…Then You Die, Doo Wah Diddy, and I Won't Grow Up, this group delivers a non-stop powerhouse show, $20, Jonathan's Restaurant, 92 Bourne Lane, Ogunquit.  FMI:  207-646-4777, www.jonathansrestaurant.com.
May 13, Sunday, 1-4pm, Live Classical Music and Tea, Dessert, and Silent Auction for Hunger, Torry Hurlburt on violin and Leigh-Ashley on viola play classical music, linen tablecloths, flowers, tea, coffee, apple crisp and ice cream, mixed berries shortcake and an array of scrumptious desserts from the Bakery at Notre Dame, bagels and ham, turkey and veggie sandwiches, $.250, $6.00, Dining Commons, York County Shelter Programs, 147 Shaker Hill Road, Alfred.  FMI:  207-793-2759, www.mothersandothersagainsthunger.org.
May 15, Tuesday, 7pm, Thornton Academy Spring Choral Concert, wide variety of music performed by the Treble Choir, the Chamber Singers and the Concert Choir, $6/general, $3/students and seniors, Thornton Academy, Garland Auditorium, 438 Main Street, Saco.  FMI:  207-282-3361, www.thorntonacademy.org/auction.
May 16, Wednesday, 6:30pm, An Evening with Paul Doiron, Mainer Paul Doiron has written two "high octane" crime novels about Maine game warden Mike Bowditch, and is also the editor of Downeast Magazine, he will be on hand to read from his work, tell about his upcoming book, answer questions, and autograph The Poacher's Son and Trespassers, free, McArthur Library, 207 Main Street, Biddeford.  FMI:  207-284-4181, www.mcarthurpubliclibrary.org.