April 19th, 2012 categories: Sanford Lakes Region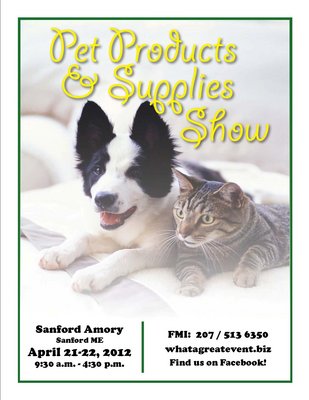 "Southern Maine Pet Expo," Sanford Armory, Sanford
Apr. 20, Friday, 7pm, Tim Rice and Ellen Tipper, singer-songwriters, $8, River Tree Arts, 35 Western Ave, Kennebunk.  FMI:  207-967-9120, www.rivertreearts.org.
 Apr. 20, Friday, 8pm, Ogunquit Performing Arts Presents the Elizabeth Dunaway Burnham Memorial Piano Festival, music by Spanish and Latin composers from Donald Alfano, $12, $5/students 18 and under, Dunaway Center, 23 School Street, Ogunquit.  FMI:  207-646-7055, www.ogunquitperformingarts.org.
 Apr. 20, Friday, 8pm, Ronnie Earl and the Boradcasters, blues, $35, Jonathan's Restaurant, 92 Bourne Lane, Ogunquit.  FMI: 207-646-4777, www.jonathansrestaurant.com.
 Apr. 21 and 22, Saturday and Sunday, 9:30am-4:30pm, Southern Maine Pet Expo, 70-80 exhibits plus activities, demos, workshops and hourly door prizes, Lake Region Caterers will serve food all day, foot stompin' oldies sing-along musical entertainment, $5/adult advance, $3/child advance, $16/family advance, $8/adult at door, $5/child at door, $24/family at door, Sanford Armory, 88 William Oscar Emery Drive, Sanford.  FMI:  207-490-3584, www.mainetoday.com.
Apr. 21, Saturday, 10:30am, SteveSongs Family Concert, the multi-talented and award-winning children's musician in a rockin' concert, seen on PBS TV as "Mr Steve,"  $10/advance, $14/door, free/children under 1, Sanford Junior High School, 708 Main Street, Sanford.  FMI:  207-324-3114, www.sanford.org.
 Apr. 21, Saturday, 7pm, Jose Duddy, entertainer and country music singer, proceeds to benefit the Nasson Community Center, $10, Nasson Community Center, 457 Main Street, Springvale.  FMI:  207-324-5657, www.nassoncc.org.
Apr. 21, Saturday, 7pm, Saco Coffeehouse presents Mainesqueeze, western swing band, $10, free/12 and under, Unitarian Universalist Church of Saco and Biddeford, 60 School Street, Saco.  FMI: www.sacocoffeehouse.com.
Leave a Reply