February 23rd, 2012 categories: Mid Coast Lakes Region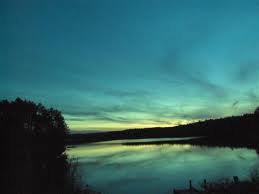 Turquoise Sky over Sheepscot Lake in Palermo, Maine
Sheepscot Lake (aka Sheepscot Pond) in Palermo, Maine, is surrounded by rolling wooded hills. For lakefront property owners this quiet pond nestled in the serene woods is the perfect place to unwind.
Sheepscot Lake, one of
Maine's Great Ponds
, covers 1,215 acres and has a 16.3 mile perimeter. The maximum depth is 132 feet, while the mean depth is 42 feet. The water quality is average. Principal fisheries include landlocked salmon, lake trout, brook trout, white perch, smallmouth bass, largemouth bass and chain pickerel. A state-owned boat ramp is located on Route 3 along the north shore of the pond, next to the Sheepscot Fish & Game Club building. The club hosts a popular ice fishing derby each February.
Bald Head Island
, an 80-acre peninsula that juts out into Sheepscot, is attached to the mainland by a narrow dirt causeway.The Sheepscot Lake Association is concerned with
protecting the lake for today and future generations.
At the boat ramp, Courtesy Boat Inspectors may ask to check your boat for aquatic invasives.
You can enjoy an idyllic Maine waterfront vacation on this crystal clear lake. Canoe. Kayak. Fish. Swim. Ski. Explore. Typically the lake will produce one or two baby loons each year. At least one pair of Bald Eagles live on the lake–you might see them as you fish. On Sheepscot Lake you can get close to nature and nurture yourself.
Palermo has no industry and no storefront businesses (locals joke that there are no cash registers in town), relying instead on nearly equal proximity to Augusta, Waterville, and Belfast to fulfill most needs. The Palermo Library offers art and reading programs; there is a community center off China Ridge; and the American Legion hall sponsors public suppers. The town boasts a small post office, a volunteer fire department, town office, and K-8 Consolidated School that is part of school Union 133 (Windsor, Somerville & Palermo).
If you dream of owning waterfront property to use as a vacation home, a part-time retirement home, or a full-time residence, then you should definitely consider a cottage, cabin or camp on Sheepscot Lake. Just click on the green box above to learn more about the lakefront listings on Sheepscot.