February 2nd, 2012 categories: Uncategorized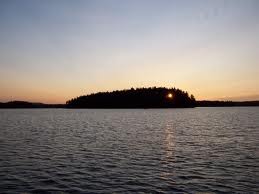 One of the many islands that dot the basin of Lake St. George
Lake St. George in Liberty, Maine is one of the cleanest and clearest lakes in the state. Lakefront property owners are pleased that the lake is rated second in Maine for its above average water quality. This beautiful spring-fed, crystal clear, mountain lake is the perfect place to spend some well-deserved vacation time.
At 1040 acres, Lake St. George has a maximum depth of 65 feet and a mean depth of 24 feet. It's well known for its excellent fisheries, including landlocked salmon, brook trout, smallmouth bass, white perch and chain pickerel. The
numerous undeveloped islands
that dot the basin add to the great fishing. A boat launch is located just off Route 3 and an unimproved launch site can be found near Marshall Shore.
Lake St. George Park is situated on the northwest shore. It offers camping, including shoreline sites.
Because there is less boat traffic than equivalent sized lakes in Maine, there's plenty of room for sailing and boating.
And when you're ready to get off the water, the village of Liberty offers some unique places to frequent in this secluded, yet central location in mid-coast Maine. The village is located at the headwaters of the west branch of the historic George's River watershed.
The old octagonal post office in Liberty is the only such one in the United States. And Liberty Graphics has been "designing and printing since the 70s." I love purchasing their high-quality seconds, with a design emphasis on the wonders of the natural world. Their designs are unique and their prices are fantastic.
Across the street, it's easy to spend hours getting lost at Liberty Tool Company. Liberty Tool offers tools, antiques, collectibles, books and art collected from estates and workshops throughout New England. With three expansive floors, it's New England's largest secondhand tool store. I guarantee you won't leave empty handed.
Liberty is 15 miles from the coast and 25 miles from Augusta, the capitol city of Maine. It's a central location for visiting nationally known tourist attractions such as Acadia National Park, Bar Harbor, Camden, Rockland and Boothbay Harbor. LL Bean in Freeport is about an hour away.
When you are considering waterfront property on Lake St. George, don't waste too much time thinking. You need to hurry up and make a purchase so you can spend time on this picturesque lake enjoying the sun rise over the crystal clear water. Click on the green button above to learn more about lakefront listings on Lake St. George in Liberty, Maine.