January 29th, 2012 categories: Belgrade Lakes Region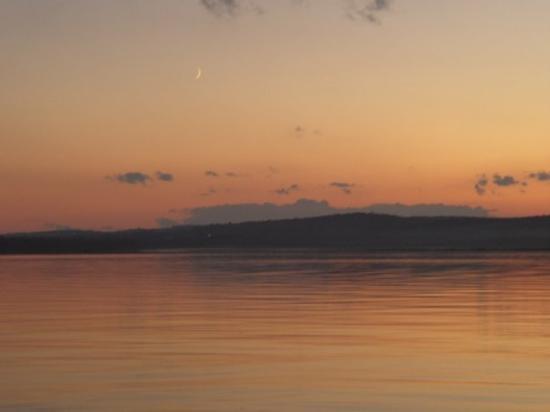 Spectacular sunset over Great Moose Lake
Despite its size at 3,584 acres, Great Moose Lake in Hartland, Harmony, Athens and St. Albans, Maine, is very quiet. If you are looking for lakefront real estate here, you'll discover everything from small cabins and camps to upscale homes.

Since the 1800s, Great Moose Lake has been a destination for sportsmen and recreational travelers. With a maximum depth of 50 feet and a mean depth of 18 feet, the lake offers diverse high quality fisheries for both cold and warm water species including brook trout, brown trout, cusk, landlocked salmon, largemouth bass, smallmouth bass, chain pickerel and white perch. The
state maintains a boat launch on Great Moose Drive
in Hartland.
Whether you swim, fish, boat, snowmobile, cross-country ski, there's plenty to do on the lake. For those who love to view wildlife, Great Moose Lake provides some of the best habitat statewide for the black tern and regionally for the bald eagle.
Hartland is home to the Irving Tanning Company, a worldwide producer of fine leathers for shoes, clothing and furnishings. Their state-of-the-art equipment has reduced production times and eliminated the less desirable elements of the tanning industry.
In Harmony, you'll find Barlettyarns, which has been "spinning fine, pure wool yarns in our historic mill in the village" since 1821.
Athens is home to the Maine Woods Pellet Company, whose "pellets are made with 100% wood – no additives."
MooseKat Guide Service in St. Albans will take you out on the lake for some "terrific bass fishing . . . and some fast and furious fishing for perch and crappie as well for those out for a good meal or to keep the kids busy."
So . . . you can sit in an Adirondack chair enjoying the view of the lake, kayak about exploring the many coves and admiring the old growth forest that slopes gently to the water or  . . . let this be your jumping off point to all the outdoor amenities the area has to offer, including great hiking trails, scenic drives and fabulous skiing at Sugarloaf.
To learn more about waterfront properties for sale on Great Moose Lake so you can enjoy all it has to offer, just click on the green box above.
To learn more about other lakes and ponds near Sugarloaf, just click on the blog links below.
Mooselookmeguntic and Cupsuptic Lake in Rangeley, Maine: Every Day is A Gift For Lakefront Property Owners
Rangeley Lake, Rangeley, Maine: Lakefront Getaways Feature Natural Entertainment
Branns Mill Pond, Dover-Foxcroft and Garland, Maine: Fishing Pole a Must for Lakefront Property Owners