January 22nd, 2012 categories: Belgrade Lakes Region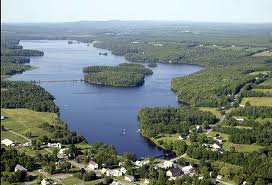 St. Albans, Maine, at the southern end of Big Indian Pond
Big Indian Pond and the adjacent Little Indian Pond in St. Albans, Maine, are ideal for any type of water activity. These water bodies form the headwaters of the Sebasticook River. Lakefront property owners love the location of Big Indian amidst the rolling farmlands of central Maine. Route 23 is lined with cornfields and pastures that fence in cows and horses. Along the roadside, you'll find stands selling vegetables in season.
Big Indian Pond encompasses 1,144 acres and has a maximum depth of 28 feet, with a minimum depth of 15 feet. The
water quality is above average
.
Brown trout, brook trout, smallmouth bass, largemouth bass, chain pickerel and black crappie form the principal fisheries. It's the smallmouth bass that are a favorite among local anglers. The
Big Indian Fish and Game Association
maintains a boat launch at Town Landing Road off Route 23.
The 14.1 mile perimeter of Big Indian is lined with trees in cove after cove after cove. Nothing but the call of the loon breaks the quiet of this relatively secluded lake.A stream connects Big Indian to Little Indian, which is a shallow, weedy pond covering 145 acres. The maximum depth is 13 feet and the principal fisheries are smallmouth bass, largemouth bass, black crappie and white perch. Hand-carried watercraft may be put in at an access on Route 23.
St. Albans is a picture postcard New England community nestled into a valley just 19 miles Northeast of Skowhegan. The small village is situated at the southern tip of Big Indian. The streets are lined with white clapboard homes. Along the main street you'll find two historic halls–the grange hall and the town hall. St. Albans Mountain and Devil's Head form the backdrop. Hikers, ATVers, snowmobilers and cross-country skiers enjoy the journey to the top, where they are rewarded with a view reminiscent of days gone by–including the steeple of Union Church overseeing the town.
Sugarloaf ski resort is an easy drive away and St. Albans is only one hour from Portland.
Bar Harbor is just over an hour away. Own waterfront property here and enjoy the Mountains and Lakes Region of Maine.