January 22nd, 2012 categories: Belgrade Lakes Region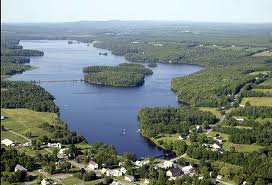 St. Albans, Maine, at the southern end of Big Indian Pond
Big Indian Pond and the adjacent Little Indian Pond in St. Albans, Maine, are ideal for any type of water activity. These water bodies form the headwaters of the Sebasticook River. Lakefront property owners love the location of Big Indian amidst the rolling farmlands of central Maine. Route 23 is lined with cornfields and pastures that fence in cows and horses. Along the roadside, you'll find stands selling vegetables in season.
Big Indian Pond encompasses 1,144 acres and has a maximum depth of 28 feet, with a minimum depth of 15 feet. The
water quality is above average
.
Brown trout, brook trout, smallmouth bass, largemouth bass, chain pickerel and black crappie form the principal fisheries. It's the smallmouth bass that are a favorite among local anglers. The
Big Indian Fish and Game Association
maintains a boat launch at Town Landing Road off Route 23.
The 14.1 mile perimeter of Big Indian is lined with trees i