November 13th, 2011 categories: Sanford Lakes Region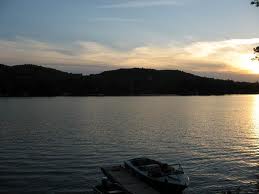 Sokokis Lake is known for gorgeous sunsets
Breathtaking views of rolling foothills and mountains beyond await lakefront property owners on Sokokis Lake in Limerick, Maine. Purchase a piece of waterfront real estate and it will be easy to make memories that last a lifetime.
Sokokis Lake,
aka Holland Pond
, encompasses 192 acres and has a maximum depth of 10 feet. It's divided into two basins. The smaller basin is home to a state-owned boat launch. The two basins are separated by a "narrows."
The
lake is named for the Sokokis Indians
who traveled what is know as the old Sokokis Trail (now Route 5), which connected the Sokokis village of Pequawket (Fryeburg) to the tribe's coastal encampment in what became Saco.
Being shallow, the principal fisheries are for warmwater fish including largemouth bass, smallmouth bass and chain pickerel.
The Sokokis Lake Association was founded in 1956 "to serve the needs of property owners and those who use Sokokis Lake. Besides monitoring water quality, which is presently below average, and conducting invasive plant surveys and other services to benefit the lake, the SLA organizes an annual Labor Day social to celebrate the end of summer. Activities include a one mile swim, horseshoe tournament, canoe, paddleboat and kayak races, plus a Ski Team show and boat parade. The association happily supports the Ski Team."
The historic town of Limerick is absolutely charming. Shops and businesses are located in a quaint setting that is small and pretty. Limerick was named for Limerick, Ireland, by James Sullivan, who established this town in 1771. Here you'll find antique shops and restaurants, plus ice cream and pizza parlors. Visit the Clipper Merchant Tea House to experience the grace of afternoon tea. Or take in a meal at the Peppermill Restaurant, which offers beautiful views of Sokokis Lake.
History buffs might enjoy a visit to Willowbrook Historical Museum, a fun-filled 19th century museum, in nearby Newfield or a drive across the Parsonsfield-Porter Covered Bridge on Route 160.
Sokokis Lake is conveniently located 30 minutes from Sebago Lake and southern Maine beaches, 45 minutes from Portland, Maine and North Conway, New Hampshire. Only an hour and 15 minutes away you can shop the famous outlets in Kittery and Freeport (think LL Bean), Maine.
If you are looking for a year-round or vacation home on the waterfront and charming, small town living appeals to you, then Sokokis Lake may be your place. And if you have water skiers in the family, or you want to learn to water ski–then this truly is the place to consider for purchasing lakefront property.
Check out all the current lakefront property listings for sale on Sokokis Lake by clicking on the green box above.