August 11th, 2011 categories: Sebago Lakes Region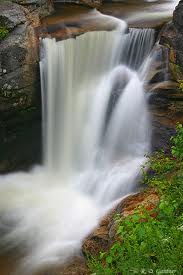 Water flowing over Screw Auger Falls in western Maine
While shopping for lakefront property, get acquainted with the hypnotizing natural phenomenon of waterfalls Mother Nature has graciously scattered throughout the Lakes Regions of Maine. All offer absolutely spectacular displays of beauty so be sure to bring your camera. Often you'll know you are there before you reach the falls as you'll hear the water cascading over the granite rocks to pools and slides below. We highly recommend these ten located in western Maine's Lakes and Mountains region, but there are plenty of other waterfalls to discover.

Angel Falls: Byron, Off Route 17. The tallest waterfall in Maine is accessible by a short hike off Route 17. It's described as "an exceptionally scenic 'hanging' falls with the longest single drop" in the state. Height: 90 feet. Degree of difficulty to reach falls: easy
Bickford Slides: Stow, Off of Route 113. About 0.9 mile up Bickford Brook Trail, which begins at the Brickett Place, the trail ascends to the upper slides. Cascades, slides and delightful chutes offer a refreshing reprieve to hikers. Forget the lower slides as the sheer flume walls are dangerous and slippery. Height of falls: 90 feet. Degree of difficulty: Moderate
Dunn Falls: Andover North Surplus, Off of East B Hill Road coming from Upton. About a 90 minute hike leads to the Upper Dunn Falls, which drop 70 feet with horsetails and fans and the lower falls, which plunge 80 feet. These are two of the highest rated waterfalls in Maine.  Degree of difficulty: Moderate with some difficulty
Ellis Falls: Andover, Route 120. Though not as spectacular as some, Ellis Falls is still worth a view with its 5-foot tall, 5-foot wide block falling into an oblong-shaped pool. A short path leads from the roadside and swings around the base of the falls. Height: 22 feet. Degree of difficulty: Easy
Kezar Falls Gorge: Lovell, Old Waterford/Five Kezars Road. This unmarked, local picnic spot offers a modest-sized gorge with a few small waterfalls, located only 0.1 of a mile from the road. The trail is easy and it's a delightful place to spend some time. Degree of difficulty: Easy
Mosher Hill Falls: Farmington, Mosher Hill Road. Well-known by locals, this plunging waterfall is a bit of a bushwack journey, but well worth it. The 0.1 mile hike to the top is easy, but the bushwacking is required to reach the base of the falls. Height: 45 feet. Degree of difficulty: Easy
Rattlesnake Flume and Pool: Stow, Stone House Trail off Route 113 in Evan's Notch. Though the flume only drops 10 feet into the gorge, it's the emerald pool that makes this a spectacular find. A 35 minute hike will lead you to the gorge first and then 0.3 mile up the trail, take a side trip to the pool. Degree of difficulty: Easy
Screw Auger Falls: Grafton TWP, Route 26. The Bear River narrows before plunging abut 30 feet to a narrow gorge. Screw Auger Falls is located beside the road, so it's less than a 0.1 of a mile to enjoy the view. Degree of difficulty: Easy
Snow Falls: West Paris, Route 26. The Little Androscoggin River flows over four cascades and into a gorge with a 25-foot total drop. Great views can be enjoyed from the footbridge over the river. Degree of difficulty: Easy
Step Falls: Newry, Route 26. After a twenty minute hike you'll be rewarded with a long chain of descending cascades, slides, water-sculpted paths and numerous shallow pools. The total drop of Step Falls is 250 feet. Degree of difficulty: Easy to moderate
Check out all the current lakefront property listings near Kezar Falls Gorge in Lovell by clicking on the green box above.
Leave a Reply