April 20th, 2011 categories: Belgrade Lakes Region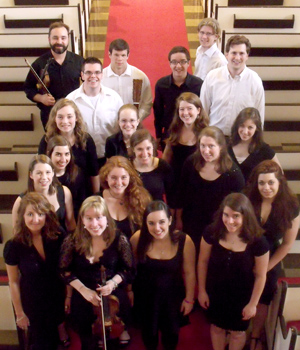 Colby Collegium Chamber Singers and Players
April 21-23, Thursday-Saturday, 7:30pm, "A Walk in the Woods," a two-man play nominated for both a Pulitzer Prize and a Tony Award, depicts the developing relationship between the two men, a Russian diplomat and an American diplomat, $10, DownStage, 221 Lisbon Street, Lewiston.  FMI:  207-782-7228, http://www.laarts.org/.
April 24, Sunday, 7:00pm, Singles and Couples Dance, for ages 21 and older, Knights of Columbus building, 150 East Avenue, Lewiston.  FMI:  207-784-0389, http://laitshappeninghere.com.
April 24, Sunday, 7:30pm, "Early Music Ensembles: Victoria and His Contemporaries," the "Big Four" of late Renaissance music, from the sacred to the secular, sample the rich instrumental and vocal repertory of Europe, ca. 1600, free, Lorimer Chapel, Colby, 4000 Mayflower Hill, Waterville.  FMI: 207-859-4000, http://www.colby.edu.
April 25, Monday, 8:15pm, Ellen Tipper, come to a CD celebration of this Maine-based songstress, her new CD, The Juggler, is a simmering melting pot of styles, touching on various genres, $15, Slates Restaurant, 169 Water Street, Hallowell.   FMI: 207-622-9575, http://www.slatesrestaurant.com.
April 26, Tuesday, 12:30pm, Noonday Concert, piano duo by Bridget Convey and Chiharu Naruse, free, Olin Arts Center, Bates, 2 Andrews Road, Lewiston.  FMI:  207-786-6255, http://www.bates.edu.
April 26, Tuesday, 8:00pm, Air Band Competition, come watch the bands battle it out, free, Olsen Student Center, UMF, 246 Main Street, Farmington.  FMI:  207-778-7346, http://www.farmington.edu.
Leave a Reply