October 27th, 2010 categories: Sanford Lakes Region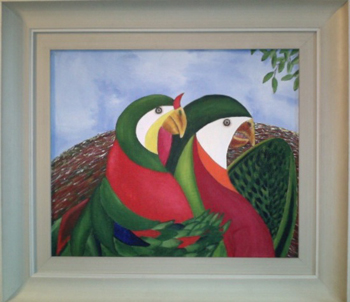 Painting by Mayan Campos showing at LACAVA in Biddeford 
Oct 29, 5-8 p.m. Art Walk, art, trick or treating, open studios, costumes, theater, trick or treating from 3-5 p.m., "Rocky Horror Picture Show at City Theater at 8 p.m. and midnight, downtown Biddeford and North Dam Mill, Biddeford. FMI: www.biddefordartwalk.com.
Oct 29, 8 p.m. Bob Marley, Maine's comedian, back for yet another performance, $22/advance, $25/day of show, $57/premiere seating (must make dinner reservations in advance), Jonathan's Restaurant, 92 Bourne Lane, Ogunquit. FMI: 207.646.4777, www.jonathansrestaurant.com.
Oct 30, 10 a.m.-2 p.m. Halloween Harvest, fun for the whole family, games, wagon rides, food, contests, come in costume, $4/person, free/under age 1, first 100 children receive free goody bah with paid admission ticket, Raitt Farm Museum, 1077 State Road, Eliot. FMI: 207.748.3303, www.gatewaytomaine.org.
Oct 30, 5:30-7:30 p.m. Halloween Howler, parade at 5:30, then walk to Millfield green to Trick or Treat, costume and jack-o-lantern contests, performance by Marcus Gale, free, Millfield, Main Street, North Berwick. FMI: www.gatewaytomaine.org.
Oct 31, 11 a.m.-4 p.m. Trick or Treat, Parsons Memorial Library, 27 Saco Road, Alfred. FMI: 207.324.2001, www.alfredme.us.
Oct 31, 1 p.m. Lawn Mower Racing, $5/person, free/under age 12, Redneck Raceway, 2 Oak Hill Road, Shapleigh. FMI: 207.751.4485, www.theredneckraceway.com.
Oct 31, 8 a.m. 2nd Annual St. Thomas 5k Walk/Run and Fun Run, benefits St. Thomas PTO, $12/before Oct 30, or $15 after, $8/students and seniors, free fun run/ages 9 and under, St. Thomas School, 69 North Avenue, Sanford. FMIP 207.324.5832, www.saintthomas5k.org.
Oct 31, 11:30 a.m.-2 p.m. 5th Annual Antique Appraisal by professional appraiser Maureen Boyd of Boyd Antiques, Eliot, $10/item, $25/3 items, lunch available, Trafton Center, 19 Elm Street, Sanford. FMI: 207.457.0080, www.sanfordchamber.org.
Nov 3, 9:30 a.m. Music Jamboree with Barbara Fraser, River Tree Arts, 35 Western Avenue, Kennebunk. FMI: 207.967.9120, www.rivertreearts.org. 
Leave a Reply