July 18th, 2010 categories: Sebago Lakes Region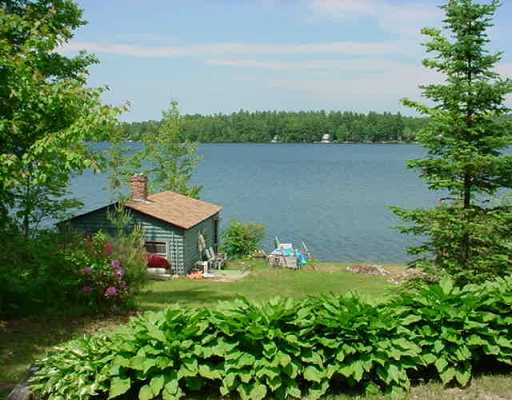 A Quiet Vacation Awaits You at Bonny Eagle Pond in Buxton and Standish
Bonny Eagle Pond in Buxton and Standish, Maine, is the perfect size for a quiet, very private vacation. The pond covers 211 acres and has a maximum depth of 22 feet.
Lakefront Properties For Sale on Bonny Eagle Pond
Less than 20 minutes from Route 95
, the Maine Mall and shoreline activities including those in Old Orchard Beach,
Bonny Eagle's tranquil waters belie all that busyness.
Summer residents watch dawn break from their docks as they peacefully sip their morning coffee.
Swimming, boating and fishing
are popular, as is paddling along the shoreline.
The principal fisheries are largemouth bass, chain pickerel and white perch. The extensive shallows and weedbeds provide excellent  habitat. You'll find a boat ramp at Bonny Eagle Park. In winter, the pond is popular as an ice fishing destination.
Bonny Eagle Park is located at the end of Proprietor's Road. Besides the boat ramp, the park sports a sandy beach with shallow water and a slow current, plus some picnic tables.
The water quality of Bonny Eagle Pond is slightly below average. Julie Carrell and Peggy Farr monitor the water through the Maine Volunteer Lake Monitoring Program.
Several buildings in both towns are of historical interest. On Route 22 in Buxton is the Old Powder House, built in 1813 to store ammunition and arms, such as the town's stock of powder, leaden balls, flints and camp kettles, in case of war. According to Buxton's town Web site, "The specifications of the building were 10 feet square, one foot and one inch thick and made of the best bricks and lime." The Dr. Royal Brewster Mansion at the intersection of Routes 112 and 202 in Bar Mills is on the Registry of National Historic Landmarks. Also on the registry is the First Parish Meetinghouse on Oak Hill Road in Standish, which was built in 1804.
Whether it's an interest in these historic sites and others, or a desire to vacation in such a lovely spot, or both, Bonny Eagle Pond is the picture of serenity.
Check out all the current lakefront property listings on Bonny Eagle Pond by clicking on the green box above.