July 7th, 2010 categories: Sebago Lakes Region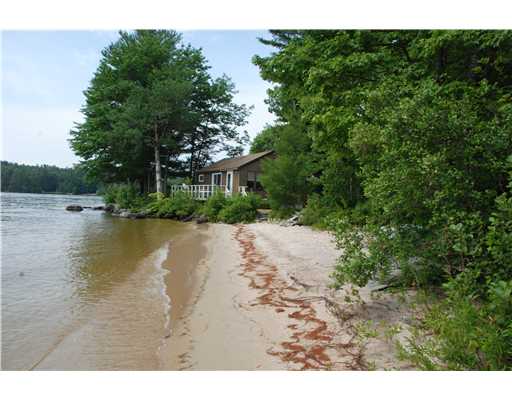 117 Salmon Point Road in Bridgton, Maine on Long Lake
Salmon Point on Long Lake in Bridgton, Maine is a small point of land that juts out into the waters of Long Lake, an 11 mile ribbon of blue that stretches from Harrison in the north to Naples in the south. From this vantage one is afforded views up and down the lake as far as the eye can see.There are a few nicely-appointed, seasonal camps along the road out on the Point and we are fortunate enough to be representing one of them, currently listed for sale.
The camp itself is just what you'd want in a Maine seasonal lakefront property – three bedrooms, a modest, but ample, 1000 sf of living area, plenty of light, and a deck at the water's edge. Just off the deck, curving to your left, a beautiful stretch of fine, sandy beach. Across the driveway on the other side of the peninsula, more sandy beach, a dock, and a place to launch your boat.
The village of Bridgton is only a mile away, affording shopping, restaurants, a new movie theater, churches, library, and hospital. When finishing your errands in town, it's an easy five minutes to this place on Salmon Point, where you can sit on your deck, look down the lake, put up your feet, and relax.
Situated on Long Lake, one of the Sebago Lakes Region's finest lakes, with wide open views of the water, deck at water's edge, flat lot, gorgeous sandy beach, and a camp that is bright, open, neat and tidy, this property has many of the attributes most buyers are looking for.
Priced at $495,000, we feel this property offers both a fine investment opportunity as well as a place that will be making family memories for years and years to come. And isn't that what we all want?
Click here to link to more photos and detailed information.