June 13th, 2010 categories: Sebago Lakes Region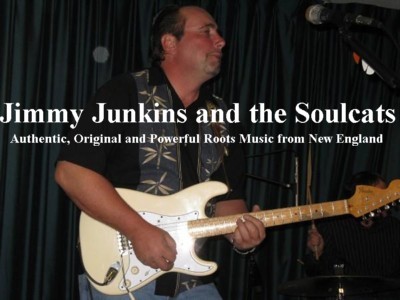 Jimmy and the Soulcats perform at the Freedom Cafe for the Maine Blues Festival
The Sebago Lakes Region Area and especially Naples, Maine, is getting ready for a blues infusion. The Annual Maine Blues Festival will take place on the shores of Long Lake and Brandy Pond on Fathers Day weekend. Mike McClellan says, "Over 40 bands, over 20 locations, all throughout beautiful Naples, Maine." The event showcases talented Maine bands performing simultaneously on multiple stages throughout town.
The fun starts on
Friday at 7 p.m
with a Warm-Up Party at seven different venues from the
Freedom Cafe
to the
Songo River Queen II
to
Point Sebago Resort
.
Saturday is Maine Blues Festival Day. Tickets  are $10 in advance and $15 on the day of the festival and can be purchased at Bray's Brewpub and Eatery, Bullmoose Music Stores and mainebluesfestival.com. Online ticket sales end at midnight on June 15.
This year's entertainment kicks off at noon on the Naples Village Green with a performance by longtime blues jam host, Luther James, who will offer his own "distinctive brand of 'slow burn' electric blues."
It's a family-friendly event and most venues are within walking distance of one another. Free shuttle buses will run throughout the weekend.
Festival headliners include The Delta Knights, Poke Chop and Other White Meats, The Sensations, Jimmy and the Soul Cats, Dave Mello, Trailer Trash, I.C. Waters, Bonnie Edwards and the Practical Cats, Paradise Alley, Gate Street Blues and Deja Blue. An All-Star Blues Jam hosted by New Blue Revue  will last from 9 p.m. till closing at Bray's Brewpub and Eatery.
Fathers Day Sunday means a Cool Down Party from 11-5 at four venues, including two blues cruises aboard the Songo River Queen II. Blues artists will also perform at Freedom Cafe, Bray's Brewpub and Eatery and the American Legion Post #155. And some lucky person will win a Fender Stratocaster Guitar donated by Buckdancers Choice and signed by the artists.
Check the Web site for more details. Then come to Naples to usher in the summer season with a mix of Chicago blues, East Coast blues, jazz, swing and R & B. And while you are here, be sure to make time to explore the Sebago Lakes Area and take a look at lakefront property.
Leave a Reply