May 5th, 2010 categories: Sebago Lakes Region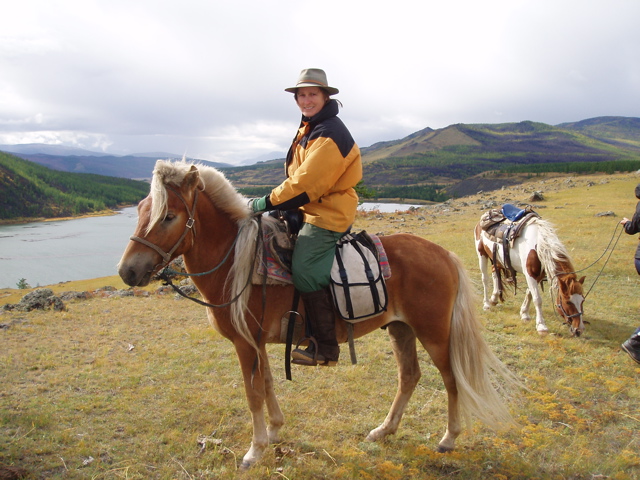 Polly Mahoney of Newry presents slide show "Exploring Mongolia by Horseback"
May 6, 4:30-6:30 p.m. Exploring Mongolia by Horseback, slide show presentation by Polly Mahoney, registered Maine Guide and co-owner of Mahoosuc Guide Service, potluck dinner to follow, bring a dish to share, sponsored by Western Mountains Senior College, open to the public, Mahoosuc Mountain Lodge, 1513 Bear River Road, Newry. FMI: 207.824.2236, www.maineseniorcollege.org.
May 7, 9 a.m. -5 p.m. Colorful Conceptions: Western Maine Art Group's Student Art Show, Lajos Matolcsy Art Center, 480 Main Street, Norway. FMI: 207.739.6161, www.thewmag.org.
May 7, 10 a.m. Wildflower Walk with enthusiast Ursula Duve, site to be decided, meet at Lakes Environmental Association, 230 Main Street, Bridgton. FMI: 207.647.8580, www.mainelakes.org.
May 7, 7:30 p.m. Talent Show, featuring people and live animals, to benefit Responsible Pet Care, $10/adults, $6/students, tix available at Books N Things, show at Oxford Hills Comprehensive High School, Route 26, South Paris. FMI: 207.743.8679, www.rpc.petfinder.com.
May 8, 8:30-4 p.m. The Non-Stop Garden, symposium for both professional and amateur gardeners will explore innovative ways to stretch your garden's capacity, speakers include Stephanie Cohen, William Cullina, Lee Schneller Sligh, and John Greenlee, pre-registration required,  $90/members of Coastal Maine Botanical Gardens or Maine/New Hampshire Master Gardeners, $105/non-members, includes continental breakfast, box lunch and tours of Pineland Farm's garden, Pineland Farms Conference Center, 16 Pineland Drive, New Gloucester. FMI: 207.633.4333, www.mainegardens.org.
May 8, 7:30 p.m. Asbury Shorts New York: A Short Film Concert, featuring short films that won Academy Awards or Best Short Awards from such festivals as Sundance, Chicago International Film Festival, Aspen Shorts Festival and South by Southwest, $10/adults, $7/students, Leura Hill Eastman Performing Arts Center, Bradley Street, Fryeburg. FMI: 207.935.9232, www.fryeburgacademy.org.
May 9, 11 a.m.-5 p.m. Mother of a Craft FAir, featuring some of New England's best artisans plus a neighborhood carriage ride with Donna the Wonder Horse, Tarot Card readings, a strolling accordion player, neck and shoulder massages, admission and music free, buy Mom lunch or a glass of wine, plus a gift of her choice, Stone Mountain Arts Center, 695 Dugway Road, Brownfield. FMI: 866.227.6523, www.stonemountainartscenter.com.
May 9, 11 a.m.-1 p.m. Mother's Day Brunch Cruise aboard the Songo River Queen, let mom relax and enjoy the gorgeous views of Long Lake while listening to the family friendly Jimmy Buffet style music performed by Simon Crawford, brunch catered by Lake Region Caterers, tix include cruise, entertainment and brunch, $35/adult, $10/ages 10 and under, Songo River Queen II, on the Causeway, Naples. FMI: www.songoriverqueen.net.
May 10, 7 p.m.  Barbara Murphy, Horticultural Cooperative Extension Agent, will talk about gardening, Lakeside Garden Club, Bridgton Community Center, 14 Depot Street, Bridgton. FMI: www.lakesidegardenclub.co.nr.
Leave a Reply