August 7th, 2009 categories: Sebago Lakes Region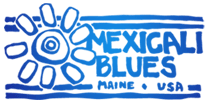 Step inside Mexicali Blues, just up the street from Sebago Lake and the Raymond boat launch, and you'll feel the commitment to make the world a brighter place.
Peter and Kimberly Erskine opened Mexicali Blues, a shop committed to responsibly importing goods, at 1338 Roosevelt Trail, Raymond in May 2004. For them it was an extension into western Maine of an already successful business.
Twenty years ago they opened their first store in the Old Port. Today they have four shop locations: Old Port, Freeport, Newcastle and Raymond.
The Erskines have turned their love of travel into a thriving business that features products from around the world. Because they believe in the international fair trade movement, they have set an example by working directly with artisans in developing countries including Mexico, Peru, Guatemala, Ecuador, India, Nepal, Thailand and Indonesia.
Buying from families, they've developed relationships based on trust and respect.
"I know everyone I buy from. That's what I do," says Pete.
And they help with local non-profits in these countries as they try to interact anywhere they do business. Improving the lives and environment of the artisans is important to the Erskines.
Fair prices paid to the artisans means fair prices for the consumer. Mexicali Blues is filled from floor to ceiling with unique stuff that other stores in the Sebago Lakes Region do not offer, created with natural materials and traditional techniques. And if Pete is in the store, he can tell you the story behind the product and the community it came from.
Store products run the gamut–exotic and unique home décor, intricately designed clothing, colorful homemade wall hangings and original music CDs. They celebrate diversity and the world's many cultures, yet are unique and affordable.
One of a kind jewelry is a big component of the shop. Gemstones such as agate, coral, onyx, turquoise, citrine, abalone, moonstone, amber set in sterling silver are individually crafted into earrings, bracelets, necklaces, pendants and rings.
Buy from Mexicali Blues and you get the chance to buy something unusual, something with a story behind it and something that improves lives with each purchase. You will leave feeling good vibes, knowing that your purchase will benefit artisans living in developing countries.
Visiting the store will certainly brighten your day. Visit their Web site at  www.mexicaliblues.com.
Andrea McDaniel said at May 23rd, 2010 at 6:12 am

Haha, I bookmarked this page. I really like your site. I'll bookmark the other pages when I have time
Leave a Reply