August 4th, 2009 categories: Sebago Lakes Region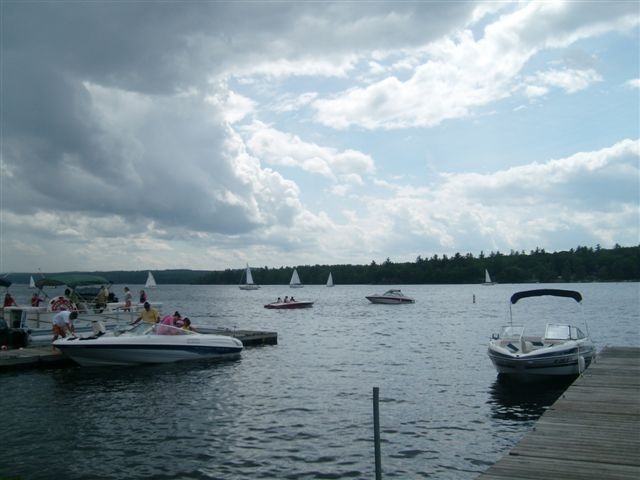 Imagine giving up your job to live, work and play on the lakefront of Long Lake in Harrison.
Working for years in sales and marketing in the corporate world took a toll on Kristen and Shawn Walker. Because they both traveled a lot for business, they felt like they were two ships passing in the night.
To remedy that, they decided to search on-line for a business where they could work together. Through this search they stumbled upon the Village Tie-Up Market and Deli on Main Street in Harrison. At the end of September 2007, the Walkers purchased the store from Bob and Janet Swett.
It was the uniqueness of the property that enticed them. The Village Tie-Up is located on Main Street and Long Lake. Customers arrive via car or boat. Roadside or lakeside, they fill up the gas tank or grab a bite to eat.
More than just a little convenience store, this shop caters to the "wonderful, local clientele . . . the regulars who sustain the business" and seasonal guests.
In the last year the Walkers completely renovated the interior and added some signature items including more fresh produce, meal replacements for those who like to grab and go, more grocery items, expanded wine and video areas as well as fresh baked goods. Picnic tables continue to be available on the waterside. And they offer unleaded and super gas, plus diesel, a necessity for many local contractors.
According to Kristen, they've "worked hard to keep gas prices competitive and not gouge the customers. It's important to us to do that for the consumer. That's one of our goals."
Their other goals include creating a place where people want to come, providing good and unique items and continuing to offer the best customer service. "Grow it, develop it, expand it in other areas," says Kristen.
And one of those other areas became evident this past spring when they opened a National Association of Underwater Instructors (NAUI) Dive Shop called The Dive Center. 
NAUI is the world's most respected diver training organization. As avid divers, it seemed only natural that Kristen and Shawn incorporate this into their business plan. With the help of Dive Masters Dan and Jason, they now offer a full range of training programs from basic to advanced certification. Classes are scheduled throughout the year.
FMI: The Dive Center at The Village Tie-Up, 29 Main Street, Harrison or call 207.583.4266.
To check out the latest in lakefront property offerings in Harrison just click below:
Leave a Reply