June 26th, 2009 categories: Observations and Commentary, Sanford Lakes Region, Sebago Lakes Region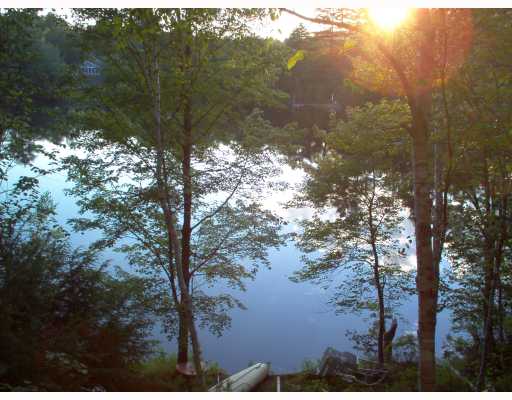 Sunset on Big Clemons Pond near Cornish
Are you in southern Maine on your summer vacation? Maybe suffering from a little cabin/camp/cottage fever in this murky Maine weather? Need to buy a gift – for yourself, or a friend? Find a variety of gift ideas at Rosemary's Gift Shop on Main Street in Cornish, Maine, where there is truly something for everyone.
On the first floor of Rosemary's you'll find her Maine Made and Beyond Gift Shop, stock full of a vast assortment of items including angels, baby and toddler gifts, books, bath and body products, candles, a Christmas corner, fishing flies, jams and jellies, games, gift bags, miniatures, moose, paintings and more.
Located in the back of the gift shop is the Ice Cream Shop featuring Gifford's Ice Cream. While there, you might get to meet Rosemary's husband. Be sure to ask him about the history of the iron fence at the park across the street. You'll come away with a belly full of ice cream and local knowledge you won't get anywhere else.
Upstairs is the Yarn Shop. It's here you'll probably find Rosemary. This is one of the largest yarn shops in Maine. You'll be overwhelmed by the choices. Rosemary offers yarn, patterns, accessories and free advice. Check her web site at www.maine-crafts.com for knitting and crocheting clinics for beginner and advanced crafters. She also encourages people to join her in "Gathering Hands," an effort to contribute knit and crocheted items to several on-going charitable projects including the following:
1. Operation Homefront Kids: Creating sweaters, hats, etc. for newborns through age 13, in an attempt to make the difference in lives of children from Maine who have a parent serving in the military.
2. Operation Sunshine Bears: Using a Teddy Bear pattern available at the shop, folks knit bears to donate to the Ronald McDonald House and Maine Medical Child Life Program at the Barbara Bush Wing in Portland, as well as to local police and firemen.
3. Operation Richie's Cap: Chemo caps for cancer patients are knit or crocheted in memory of Rosemary's friend, Richie Aaron.
4. Operation Warm Hands: This is an easy summer project that will benefit children next winter. Knit mittens to donate to children in need.
If you are vacationing here and like the Cornish area you might be interested in seeing what lakefront properties are for sale nearby. Here are the current lakefront properties for sale on Big Clemons Pond, Barker Pond, and Stanley Pond – all within easy drives of downtown Cornish:
Search for properties on Big Clemons, Stanley, and Barker Ponds
Anjanette Mcgeehan said at December 16th, 2010 at 1:30 pm

Hello! Appreciate the great post. Keep it up!
Leave a Reply