January 25th, 2009 categories: Sebago Lakes Region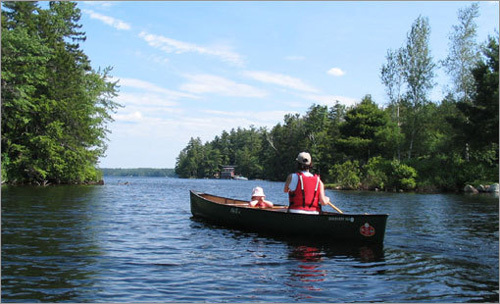 The town of Bridgton is one of the most popular destinations for buyers of lakefront property in the Sebago Lake Region. And why not? Bridgton has some of the most desireable lakes and ponds in the area, has a downtown that boasts a new movie theater, a new, expanded Reny's for retail shopping, a new Hannaford and updated Food City for groceries, a first rate seller of fashion and home furnishings at Craftworks, several attractive B&Bs and resorts, two booksellers, a wonderful new hospital, restaurants, a cafe…and the list goes on.
Located less than an hour from Portland and the turnpike and less than a half hour from shopping mecca North Conway, NH, Bridgton is ideally situated on well-travelled Rte. 302. If you've never been to Bridgton or spent any time there, be sure to check it out the next time you're up this way.
Find below a link to all the lakefront homes currently listed for sale in Bridgton. There are some very nice lakes and ponds here including Long Lake, Highland Lake, Moose Pond, Woods Pond, Ingalls Pond, and Foster Pond, just to mention the larger ones.
Here are the current Bridgton lakefront listings. Just click on the box to get more information:
City lakefront homes | Lakefront Houses said at January 25th, 2009 at 8:36 am

[...] Bridgton Attracts Maine Lakefront Real Estate BuyersBridgton has some of the most desireable lakes and ponds in the area, has a downtown that boasts a new movie theater, a new, expanded Reny's for retail shopping, a new Hannaford and updated Food City for groceries, … Find below links to all the lakefront homes currently listed for sale in Bridgton – not including the Long Lake, Bridgton listings. Those were posted a couple of weeks ago. There are some very nice lakes and ponds here beside Long Lake … read more… [...]
Leave a Reply