February 28th, 2008 categories: Lake Community News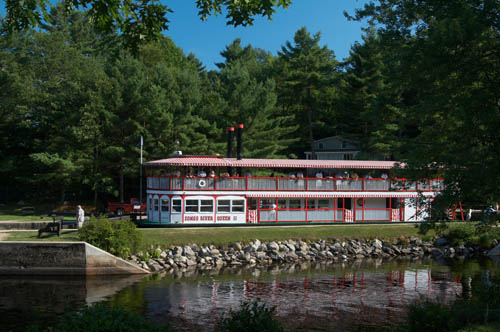 The Naples Causeway Bridge controversy continues to generate a lot of discussion in this lake region community.
The Maine Dept. of Transporatation has now scheduled a meeting to promote their fixed bridge plan, which has many Naples waterfront business owners and area residents up in arms. The local board of selectmen is urging everyone to keep an open mind, but there seems to be a groundswell of opposition to replacing the current swing bridge with a fixed bridge. The cost of the project, whatever happens, plays a large part in what the state is proposing as funds are short and many projects need attention.
The main bone of contention is that a fixed bridge, as proposed, would not be high enough to allow the Songo River Queen II or tall-masted sailboats sufficient room to pass under the span, thus confining them to one side of the bridge or the other.
There could also be a ripple effect in the local waterfront real estate market. Any change in the status quo is bound to affect current and potential waterfront owners' perceptions regarding access to the 45 miles of contiguous waterway by certain types of boats. If you're a sailboat owner who wants  to sail on all three bodies of water – Long Lake, Brandy Pond, and Sebago Lake – and find you can no longer pass through the swing bridge in Naples, it might have you going elsewhere to purchase that special waterfront property that suits your sailing needs.
In today's Bridgton News there is a full report on the latest developments in this ongoing issue. You can read all about it in our Maine Lake News.
************************************************
If you enjoyed reading this article, why not subscribe to be notified of the next one?
Leave a Reply